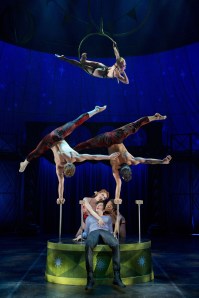 So, comes the inevitable question when someone learns what I do for a living, what should I see?
It depends, I reply with equal inevitability. What do you like?
The perfect play for my parents isn't the perfect play for my best friend. The best show for a die-hard Rent head isn't the same as the best show for a devoted Shakespearean. Some people (inexplicably) hate musicals. So rather than engage in the academic exercise of naming my 10 favorite shows from the year, let's be a bit more utilitarian—servicey!—and pick a few things to see.
It's not a Top 10 of the Year; it's a Top 10 Things to See Right Now.
The most fun new show on Broadway is A Gentleman's Guide to Love and Murder (at the Walter Kerr). A music-hall romp about a charming serial killer, it's clever, silly and inventive, with catchy (if admittedly forgettable) songs and two knockout performances, with Jefferson Mays as eight different soon-to-be-corpses and Bryce Pinkham as the distant relative who bumps them all off. The bad news is that, without any big names or movie tie-ins, it's selling poorly—but that means you can find cheap tickets. Grab a pair.
Prefer your musicals a bit more, well, traditionally musical? Last season's two blockbusters—Kinky Boots and Matilda (at, respectively, the Al Hirschfeld and the Shubert)—opened in early April and are still packing them in. Matilda is the darker, more interesting show; Kinky Boots is the sexier one, with better music. But they're both well-made, well-produced, well-performed happy-ending stories, perfect for giving your out-of-town guests the ideal Big Broadway Experience.
Pippin (at the Music Box) also opened in April, and is probably the ideal revival of this classic but imperfect musical. Diane Paulus's circus staging, with choreography that hints at Bob Fosse's original and iconic dances, is a visual delight, and the bouncy, catchy score sounds fantastic.
Pippin is dark—about suicide, some say—but the best musical of the year is much, much darker. Fun Home (at the Public Theater), Lisa Kron and Jeanine Tesori's adaptation of Alison Bechdel's graphic memoir, is beautiful, heartbreaking, and haunting. About Ms. Bechdel, who came out as a lesbian in college, and her father, whom she then discovered was secretly gay and who killed himself a few months later, Fun Home isn't for everyone—probably not for your conservative cousins from Atlanta, or your nephew on break from middle school—but for a serious theatergoer, seeking a serious musical, it's spectacular.
Have no patience for singing and dancing? You're wrong, on a certain basic level, but not to worry.
Shakespeare abounds this year—two Romeo and Juliets, two Macbeths, with one more coming in the spring—but two current productions are the standouts. The great English actor Mark Rylance is in town with the Shakepeare's Globe company, performing two plays in repertory as they were in Shakespeare's time, with men playing women and candles overhead. Skip Richard III, which doesn't really work with Mr. Rylance's deadpan, flustered acting style but catch Twelfth Night (at the Belasco), a cross-dressing comedy starring Mr. Rylance as the grieving Olivia. The company's traditionalist mission, and the star's performance, come together perfectly. Simultaneously, though, there's also experimental Shakespeare playing, in Julie Taymor's visually stunning A Midsummer Night's Dream (at Theatre for a New Audience, in its snazzy new Brooklyn home). The acting can be uneven, and the words get a little lost, but Ms. Taymor, having turned off the dark times of Spider-Man, is back in fine form, delivering the most memorable images and staging I saw all year.
For the more contemporary classist, there's John Tiffany's Glass Menagerie (at the Booth). The casting is impeccable—Cherry Jones as Amanda Wingfield, Zachary Quinto as Tom, Celia Keenan-Bolger as Laura, and Brian J. Smith as Jim, the gentleman caller—and the staging is gorgeous, a beautiful conjured moment in Tom's inky memory.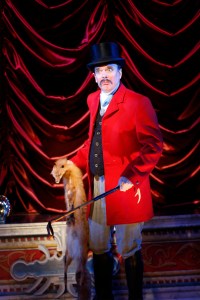 The holiday season is a time for family, which means, for many of us, at some point the inevitable uncomfortable conversation with the AIPAC-briefed uncle, full of lectures about Obama's perfidy and the evils of the American Studies Association. Take him—and the rest of your family, or even just yourself—to Bad Jews (at the Laura Pels, for just another week and a half). Joshua Harmon's play about cousins fighting over who gets to keep their dead grandfather's chai necklace is intense and funny, with a ferocious lead performance by Tracee Chimo. It's also a thoughtful meditation on Jewish identity and continuity, and it'll give you and your uncle something different to fight about.
And, finally, for those who engage in a different kind of Jewish worship, there's Buyer and Cellar (at the Barrow Street), quite possibly the funniest comedy of the year. A one-man show starring the exceedingly charming Michael Urie, it's a fantasy and a farce, and also a smart consideration of the pressures of fame, perfection and being Barbra Streisand. Art, as it turns out, isn't easy.