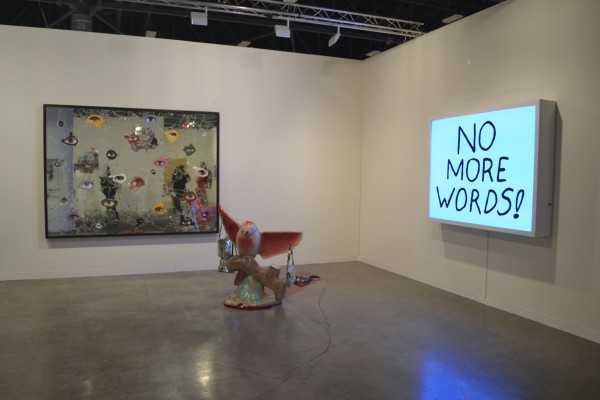 Opal, the journalist in the 1975 film Nashville, speaks into a micro-recorder as she walks through a school bus parking lot:
The buses! The buses are empty and look almost menacing, threatening, as so many yellow dragons watching me with their hollow, vacant eyes. I wonder how many little black and white children have yellow nightmares, their own special brand of fear for the yellow peril. … Damn it, it's got to be more … positive. No, more negative! Start again. Yellow is the color of caution. No. Yellow is the color of cowardice. Yellow is the color of sunshine. And yet I see very little sunshine in the lives of all the little black and white children. I see their lives, rather, as a study in grayness, a mixture of black and. … Oh, Christ, no. That's fascist. Yellow! Yellow, yellow, yellow. Yellow fever …
1. Two high-net-worth individuals walk into a bar. One guy says to the other, "I just got back from Art Basel in Miami Beach." The other says, "You still into that?" If this sounds familiar, it's because I've lifted it pretty much wholesale from an article that New Yorker critic Peter Schjeldahl wrote upon his return from what was then called Art Basel Miami Beach, in December 2006. In the passage to which I refer, he's discussing what at that time was a boom in the contemporary art market. Here is the passage in full:
The startling costliness of recent art from China, much of it pretty bad, proves that the market is international as never before. People who were eager to deny the obvious—that the run-up in art prices is a bubble headed for a spectacular correction—all cited this factor to me. I countered with a little fantasy: One day, perhaps soon, someone in a convivial group of money guys at a bar will say, "I just got back from [name of art fair]. It was fantastic!" Another will drawl, "You still into that?" In the ensuing embarrassed silence, the bubble won't burst; it will vanish.
The contemporary art boom, as it happened, has proved durable. To say it's back now is to imply, somewhat mistakenly, that it ever really went away. Five years after the global financial meltdown, The Art Newspaper reported from this year's Art Basel in Miami Beach (the fair's current name) that boom times were indeed very much upon us and that, in fact, "it took less than a year for confidence to return." And, as dealer David Zwirner implied in a recent New Yorker profile, it was fairs themselves that buoyed the art market during what could otherwise have been a deeper recession, creating as they do an atmosphere that encourages commerce, even if people aren't necessarily opening their wallets. ("In 2009, everything fell apart," Mr. Zwirner told Nick Paumgarten. "Values came down, and I thought, Shit, this is going to be rough, this is going to last years. But the structures of the art world were absolutely intact. We all flew to the fairs, showed up for the dinners. Collectors weren't buying, but they were there, they were in our net.")
So, no, the art market and its buzzing art fair ecosystem are unlikely to be brought down by some rich guy at a bar chiding another who went to an art fair. The trouble at Art Basel in Miami Beach, however, is another matter. The ominous bell tolling in the distance for that 12-year-old event came not from rich would-be collectors at a bar, but rather from a rich art dealer at a restaurant. After the fair ended, Erik Maza over at WWD published his report on real estate developer and art collector Aby Rosen's annual dinner at the Dutch, in Rosen's W Hotel. Mr. Maza quoted Larry Gagosian:
I think there's too many parties here… It could be the social scene swallows the art scene… It could erode the core of what made this and I'm a little concerned that serious collectors, people who I do business with, and a lot of my colleagues might say, 'Well, this is just some social rat f–k,' and I've already started to sense a little bit of that…. It becomes a place to attach a product launch and I understand that. Those are legitimate businesses, too. I'm not a snob. All I'm saying is that for my industry, the tail might wag the dog and that could be a problem. Two years ago, the audience was a little more interesting from the perspective of the galleries that come here.
To invoke a creature to which Mr. Gagosian has been compared, could it be that the shark has jumped Art Basel in Miami Beach?
The rat-fuck problem (if you care to look at it that way) for Miami is simply the fair being a victim of its own success. On the eve of the fair, The Times ran an article in which various art worlders complained about the relentless party scene. (Which seems a bit of a pose, but anyway.) The reality is that the core art-world activities hum along essentially as they used to, it's just that they are doing so in parallel to an alternate universe of events and promotion that has accrued to Art Basel like barnacles to a ship. This rat-fuck moment, if you care to use such terminology, is remarkable in terms of its sheer scale. To switch metaphors, the nimbus of events that  surrounds the "main fair" (as people have come quaintly to refer to the convention center), like successive layers of smog, now serves numerous art and non-art worlds on many different levels. The environment as a whole, the "week," if you will, has become too big to describe.
2. It's a typically balmy night in South Beach. A photographer colleague and I are sprinting across an expanse of beach adjacent to the tent housing the two-year-old Untitled art fair. It's a few minutes past eight, and there's a performance at eight: an artist duo, the TM Sisters, would be blessing the surf. So we're bounding in the general direction of the Atlantic Ocean, looking for them. Soon enough there looms into view, moving toward us, a cluster of what appear to be performers, surely the TM Sisters, one of them armed with a ukulele. "Have you finished?" I breathlessly ask. "Yes!" the ukulele player answers. "Well, we're journalists, and–think you could just…do it again?" The performers exchange looks, shrug. "Why not?" says the ukulele player. "Let's do it again!" "Let's do it again!" the rest of the performers exclaim. We're all moving now, en masse, toward the waves. "Let's do it again!" we all say, in unison, the ukulele player, the other performers, myself and the photographer, as we stride, joyously, surf-ward and the ukulele player begins strumming the ukulele, and they all break into song, blessing the surf first in English, then in Spanish, boisterously singing the praises of Jesus Christ, their lord and savior. The photographer takes photographs. I scribble in my notepad. Meanwhile, down the beach a bit, weird lights appear, a kind of parti-colored fog…
Need I tell you that the performers we'd chanced upon were not the TM Sisters, but instead a group of Pentecostalists who happened to be walking on the beach and felt moved to praise Jesus, and that the two formidably athletic TM Sisters, one of them trained as a professional synchronized swimmer, were down the beach in that neon haze with some 30 of their artist friends, bedecked in face paint and rhinestone-encrusted leotards, dancing frenziedly to guitar feedback, blessing the surf under the watchful and slightly disconcerting gaze of a George Clinton lookalike, then shedding clothes and running into the waves, all the while chanting into a fuliginous cloud of, let's say, piquant smoke?
3. Perrier, Dobel Diamond Tequila, Tito's Handmade Vodka, Heineken, Dom Pérignon, BMW, Porsche, Ferrari, Ladurée, Llanllyr Natural Source Spring Water, Hendrick's Gin, HSBC Commercial Banking, Casa Dragones Tequila, Lululemon, Kipling Bags—I was going to list every brand that had a presence at Art Basel in Miami Beach, but I started losing the will to live, so that will have to be it for now. Sorry, other brands.
Nota bene, performance artists: here's one for Miami. Go on Craigslist, hire a bunch of people who look exactly like you, do further enhancements to make them really look precisely like you, and then deploy them to every single party on every single night and make sure they get photographed by Billy Farrell or Patrick McMullan or whoever's on duty, and then compile a whole—well, you get the point. The point has something to do with branding. Two years ago, Jerry Saltz wrote that the art fair environment can be a place for "the art tribe to have a giant sleepover, stay up late together, and…touch antennae." I don't disagree, but the brand-oriented atmosphere in Miami at the moment perhaps makes for a lot of bruised antennae. Here is an excerpt from a press release I received from Pratt Institute:
De Castro and Mondics are recent Pratt graduates, and Finkelstein is a senior at the Institute. The three men were the top finishers in the Pratt/Hennessy V.S art challenge, a collaboration that began last year, in which Pratt students create pieces inspired by Hennessy's brand mantra 'Never stop. Never settle.' and its campaign slogan, 'What's Your Wild Rabbit?' An exhibition featuring the three artists' work was installed for a week in the lobby of Kimpton's luxury EPIC Hotel in downtown Miami.
It's all well and good for artists to be doing stuff, but the "brand mantra" part is a little queasy-making. And yet: certain clever artists have co-opted the whole branding thing. There is something of a wink-nudge when Ry Rocklen, who designed this year's Absolut (as in the vodka) Art Bar on the beach outside Art Basel, tells me about his plans for his furniture brand, Trophy Modern. We're sitting on a Trophy Modern couch—made from real trophies, the kind you win at a bowling tournament—looking around at Trophy Modern bar stools, a Trophy Modern bar, Trophy Modern chess tables, a Ping-Pong table, bleachers and a DJ mixing booth set up on a stage where, in a few hours' time, dancers will do a Richard Simmons-inspired dance routine. It's fun stuff, this furniture, the kind of thing that would look sleek in a kitschy interior and kitschy, in the best possible way, in a sleek interior. Mr. Rocklen's thinking of expanding his Trophy Modern line to include Trophy Modern Wood ("That could sell to a place like Soho House"), Trophy Modern Noir and Trophy Ultra Modern, an ultra-luxe line (real marble!). "There's a celebratory aspect to the trophy," he said. "It's a kid's fantasy."
4. Some years ago, the artists John Baldessari and Joseph Kosuth were sitting together in a restaurant in Basel, Switzerland. This was in June, during Art Basel, the annual art fair there. Neither of them had been to an art fair before and they were, as Mr. Kosuth recalled during a talk at this year's Art Basel in Miami Beach, "dumbstruck at what we were watching. So a journalist said, 'Wow! Real artists! What do you think of the Basel art fair?' and I said, 'Well, I feel like a whore at a pimps convention.' But John beat me. He said, 'It's like watching your parents fuck.'"
5. Miami during Art Basel has gained a perhaps unmerited (but perhaps merited!) reputation for debauchery. This year, in addition to being a place at which to add to your roster of sins, it was also place to unburden yourself of some of them. In Collins Park (where the fair annually installs a sculpture park), within sight of Kate Gilmore's strapping, shirtless (at least during the VIP event) performers, all of them noisily employing sledgehammers (WHAM!) to make sizable dents in sizable metal boxes (a maximalist attack on minimalism?), one could take refuge in the cool, quiet interior of the Collins Park rotunda, which at one time served as a theater for a nearby library, and which artist David Colman had, for Art Basel, transformed into his "Santa Confessional." In Clausian robes (red and white, complete with stocking cap), he took confessions from all comers in a compact structure whose design was equal parts gingerbread house and confessional booth. (One person, he said, later, in his street clothes, confessed that she didn't believe in God, which seemed to strike him as fairly banal.) And what better place for an ad-hoc confessional than directly across Collins Avenue from the W hotel, where any number of top dealers and collectors stay during the fair? During his confessions, Mr. Colman, as Father Christmas, was heard (because that was part of the point, if you got close enough, you could hear people's confessions) to issue a dictum particularly appropriate to the atmosphere here: "The only message I have for everybody is, I don't judge."
6. Miami Beach is a place of contrasts, and its rich pageant is no better captured than when the art circus pulls into town. You can stand at the elevator doors of a 35th floor penthouse when they birth a tall blonde in a floor-length gown and a cloud of scent into a party bustling with waiters bearing Champagne flutes and canapés. Or you can hang out in Lummus Park with the sunburnt bums, and a dead rat sprawled languidly across the running path. The hotels along Collins Avenue are alternately tony and decrepit, or in varying stages of construction.
When Norman Mailer visited in 1968 to cover the Republican National Convention, he wrote:
…by 1968 large areas of the original coastal strip were covered over altogether with macadam, white condominium, white luxury hotel and white stucco flea-bag. Over hundreds, then thousands of acres, white sidewalks, streets and white buildings covered the earth where the jungle had been. Is it so dissimilar from covering your poor pubic hair with adhesive tape for fifty years? The vegetal memories of that excised jungle haunted Miami Beach in a steam-pot of miasmas. Ghosts of expunged flora, the never-born groaning in vegetative chancery beneath the asphalt came up with a tropical curse, an equatorial leaden wet sweat of air which rose from the earth itself, rose right up through the baked asphalt and into the heated air which entered the lungs like a hand slipping into a rubber glove.
Plus ça change, plus c'est la même chose.
7. Gaze into the belly of the Jeff Koons elephant fronting Zwirner's booth. What do you see in that Girandole mirror? Crocs, khakis and strollers? Then it must be  late Friday afternoon at Art Basel in Miami Beach, the first real surge of the general public, when what's left of the dealers—underlings, mostly—pace their booths in an over-/under-stimulated stupor.
Two days earlier, you would have seen reflected there a fancier animal, and heard the soft rustle of money in the aisles, the steady hum of commerce. Commerce in the guise of social banter, sing-song commerce, the serious mulling of that $20 million price tag. There are several works by Mr. Koons at the fair this year with mirrored surfaces, and it may occur to you as you pass them that these pieces, in all their cool glamor, have found their rightful home at the fair. In museums, in galleries, in mansions, they'll forever after look starved to you. Something about the activity here in this maze of booths—whether the elegant haggling of collectors or the gawking of the looky-loos–completes them.
8. There are stories from the early years of Art Basel in Miami Beach—then Art Basel Miami Beach, circa '04 or '05—that, while quite possibly apocryphal, have nevertheless graduated to the status of origin myths.
Heard the one about the art dealer who rented a stretch limo to take him and his crew from the Delano to the Raleigh, the vehicle being so lengthy that it needed to drive only a few feet? I was reminded of this era, obliquely, by the Mathieu Malouf paintings at this year's Art Basel in Miami Beach, in the booth of Brooklyn gallery Real Fine Arts. The little mushrooms that appear to grow from their surfaces were for me madeleines, evoking the year (2006) when, lodging in a humid room at what was then the Day's Inn, I kept company with a delirious pattern of carpet stains and what appeared to be a bumper crop of mold mushrooms sprouting behind the toilet. This until I was rescued by a colleague at the company I then worked for, an executive who'd had her fill of Miami and was leaving her room at the Raleigh early, and did I want to take over her room? And then, o happy day, leaving the mushrooms and stains behind for a fluffy high-thread-count duvet newly emphasized each evening by turndown service.
9. Art Basel in Miami Beach, née Art Basel Miami Beach, was born in 2002 as a modest, community-oriented (insofar as the art world is a community) event with some quiet dinners and a block party in the Design District on Saturday night that you could go to or not, it was fine either way, and a few art journalists who wrote for the trades hanging around and scribbling about how the fair did well for its first time around, and show-of-confidence this, and brisk-sales that, and then, the next year, nice first effort from NADA, and all that sort of thing.
Over the years, however, as the event has grown, there has been a bifurcation of the journalism down there. At the smoky, strobe-lit end of the spectrum you've got your night-life sociologists. At the other end, brightly illuminated by the artwork-aimed spotlights of the convention center, are your art-market analysts, with their calculator vision and sensible shoes. The real Art Basel in Miami Beach, should you be prepared to shed the tears required to peel that particular onion, as free of judgment as a Santa confessor, lies somewhere between the two. Indecision as to which form you pursue, or an attempt to do both, is going to cost you sleep and the price of however many stimulants it requires to burn the candle at both ends.
I was thinking these things at this year's edition of Art Basel in Miami Beach when a dealer texted me, "How do I find the bathrooms in here?" Maybe—eureka!—that is the true purpose of art fair journalism. Forget chasing P Diddy and his entourage down the aisles until you can wrap your sweaty palms around the grail of what is he going to hang in his Hamptons home? Forget ventriloquizing, in heroic tones, the emails you receive from galleries detailing which artworks they sold and for how much. Forget getting someone to tell you how much that Koons costs. Forget your "Top 10 Artworks." Give the people what they need! Service journalism at its best—***BREAKING: Bathrooms are located between M6 (BUCHHOLZ) and M7 (KUKJE). In a related development, additional bathrooms can be found between A2 (NAUMANN) and A3 (TAYLOR), as well as between A13 (MILLER) and A14 (ROBERTS&TILTON)*** "No more words!" a Sam Durant neon piece shouted at me from the booth of London's Sadie Coles HQ.
10. From the whirlwind that is Art Basel in Miami Beach, two images will stay with me, in part because they ran counter to the usual art fair bling: clusters of huge, green straw-sprouting coconuts littering a VIP lounge, and an animatronic fax machine.
On VIP preview day, the coconuts (my colleague Andrew Russeth joked that they became the day's it accessory) entered the VIP area in the hands of collectors emerging from Jim Drain and Naomi Fisher's jungle-style bar in the Nova section, coconuts freshly chopped for them and equipped with straws by one Clive Chung, recruited by Drain and Fisher from the Farmer's Market at Miami's Legion Park. Mr. Drain and Ms. Fisher live in Miami and their bar, complete with an overgrown little grove of palm plants they referred to as their "office," was all about their city's less tameable aspects. Launching a raft of coconuts out into the convention center on VIP preview day turned out to be the ultimate ephemeral artwork, by dint of the fact that those coconuts were heavy, and soon enough they began popping up on just about every flat surface of the VIP lounge, abandoned—some even before having been fully enjoyed—by their sore-armed custodians. Everywhere, coconuts colonized surfaces, as though wild nature itself, the very "vegetal memories of that excised jungle [that] haunted Miami Beach" that Norman Mailer once wrote of, had entered the convention center and was swiftly proliferating.
Elsewhere, artist Wang Yuyang had transformed Tang Contemporary's booth in the fair's Positions section into a replica of any number of spirit-killingly, unrelievedly grim finance offices in Beijing. (Some fair-goers walked right by the booth, mistaking it for an actual finance office.) Stay inside long enough, though, amidst the drab fax machines, computers, rolling chairs, file cabinets, and you slowly came to realize that each one of these things was breathing, the artist having meticulously recreated them out of silicone, and installed in each one a tiny motor. A cigarette pack was breathing. A book was breathing. A computer mouse was breathing, as though these workaday objects had, through long exposure, absorbed the life force of long-since-departed workers.
11. One of the most resonant artworks I saw in Miami during Art Basel in Miami Beach was a four-door sedan in Venus Over Manhattan's "Piston Head" exhibition at that new-ish Herzog & de Meuron parking structure over on Lincoln Road. The sedan was tricked out by Nate Lowman and Dan Colen such that its interior was a riot of wires and monitors and speakers blasting that old Champs song "Tequila," on repeat. The doors hung open like so many jaws agape, as though the car was making to barf up its contents. I leaned down, stuck my head in the passenger side and listened to the Champs shout "Tequila!" and thought, In Miami this is brilliantly redundant.
12. On my second to last night in Miami I found myself at the Standard, on the large outdoor deck, at the dinner of an upper-middle-class gallery. Just behind our two tables was a hedge which, it soon became apparent, separated us from a fashion-oriented dinner of some kind. The well-coiffed heads were just visible over the shrubbery. It might have been I who suggested we launch lemon wedges over the hedge, then feign incredulousness when accused of having done so. The plan was shot down when someone at the table suggested that the other party might think the lemons were falling from the sky. But it was an intriguing-enough image: fresh-faced Ponce de Léons, all, finding in Florida, at last, the fountain of youth.
13. Up and down the beach, from the Deauville, to Soho House, to the Scope tent, across the Causeway to the Wynwood and Design districts, Miami was, at all hours of the day and night, thrumming with activity. There were, broadly speaking, two modi operandi: the hyperactively gleeful, hey-everybody-let's-do-this-thing emanating from the brand people, counterbalanced by the let's-just-keep-our-heads-down-and-get-through-this-thing wafting off a good number of the art people, the dealers each day emerging from the convention center, blinking like moles in the sunlight. W/r/t the former group, count how many times you hear someone say "Art Basil." You could go around with a schoolmarmish, "It's not the herb, it's the canton," if you didn't think you'd look considerably more foolish than the person you were correcting.
14. A week after Art Basel in Miami Beach, I was on my delayed honeymoon. Copious scrapes from a coral reef and a molar with a temporary crown had both at long last ceased throbbing. I was seated in a deck chair indulging in a certain dolce far niente, gazing out at a horizon free of anything save for gently rippling waves, when a voluble conversation in my vicinity alerted me to the grim fact that I was seated within earshot of a paparazzo who, when he wasn't borrowing copies of US Weekly and People from people in other deck chairs to see if his photos were in them, was rapturously describing the photos he'd taken "at Art Basel." Last year, Artforum's Scene and Herd column provided you with a disquisition on FOMO, Fear of Missing Out, to which I, having been nearly maimed by a cocktail glass thrown by a frustrated individual waiting in line for the party at Wall, responded with a phenomenon I dubbed, in a nod to some of Miami's celebrity guests, Q-Rage. As I listened to this paparazzo gloat over his photos, though, it occurred to me that AB in MB (formerly ABMB), doesn't merely play into but exemplifies the art world's latest anxiety, the less-pronounceable, appropriately less melodious FONBS (Fear of Not Being Seen).
15. Santa Claus, thank you for hearing my confession. I'm trying to write a wrap-up of Art Basel in Miami Beach, but no sooner do I put hands to keyboard than I'm overtaken by wave after wave of loginess, enervation. I want to write about how excited I was to see this or that artwork or performance or person or new museum building, but when I try to write these things instead I write things like, "Then I walked over to the section called Nova, which, because I'm always hungry at art fairs, I tend to mentally complete with 'and cream cheese on an everything bagel,' before circling back to Positions, with its whiff of the Kama Sutra and various Cosmo mag tips." Or I'll start to write about how much this one Jeff Koons costs and what comes out is, "If you're looking for a fun diversion, you can imagine whatever brand the party you're at is sponsored by has been replaced with Depend® or Cialis. Or both! 'The evening, presented by Depend® and Cialis, will include music by…'" What's wrong with me, Santa?
16. An email sent by a publicist the Monday after the fair:
From: [REDACTED]
To: Sarah Douglas
Dec. 9, 2013

ATTACK of SANTABASEL

Hi Sarah,

I hope you are well!

Founder and Chief Underpants Officer of the ubiquitous JOE BOXER brand, Nick Graham launched his eponymous lifestyle brand last week in time for the holiday season. To celebrate the launch, Graham enlisted a crew of Santa's in a pimped out 1964 Pontiac GTO to take Miami by storm during Miami Art Basel. These naughty, polka-dotted Santas made the rounds to the best parties like Gaga's; posed for photos with Real Housewives of Miami's, Lauren Foster and so many others. For additional images, please find at this link.