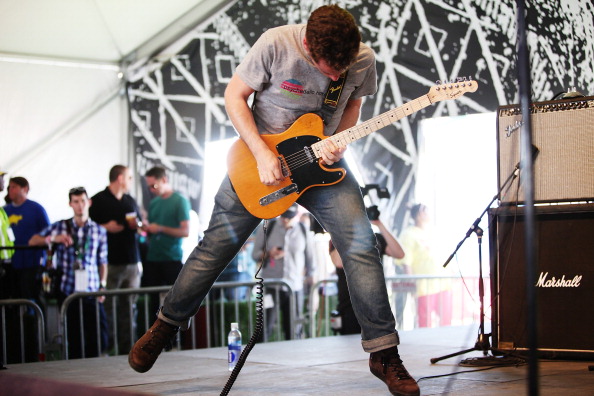 If Dame Patti Smith is to be believed, artists are fleeing town faster than you can say "gentrification." And yet, year after year, I continue to be bowled over by the sheer amount and variety of talent that flies at my face each time I venture out. I know, I know: "Punk rock died when the first kid said, 'Punk's not dead, punk's not dead.'" But whatever! Here are 10 locally based artists—some a bit bigger than others—who broke through the many layers of postmodern ennui swaddling my soul to make me feel excited about music this year. Keep up the good work, guys.
ICE BALLOONS
The first time I saw Ice Balloons, I thought they were way too off the wall to ever gain popularity outside of basement shows and Rubulad parties. But is that such a bad thing? This lurching, fuzzed-out act—fronted, naturally, by a half-man, half-fly creature—is just the thing to make you feel you've stepped into another dimension, especially when accompanied by B.A. Miale's trippy projections. With a recently released debut EP and such sexy collaborators as Kyp Malone and Ryan Sawyer, they don't appear to be going anywhere. Their music videos are also quite the experience.
[youtube=http://www.youtube.com/watch?v=rRKmEHClcTM&w=615]
DUST
Of all the negative things people say about electronic music, "it's boring live" might be the most common—and a lot of the time, the most true. Fortunately, nobody in her right mind could ever say that about Brooklyn "battle techno" group DUST. Fronted by Korean avant-garde noise artist Greem Jellyfish (who sure knows a thing or two about distorted space-shrieks), this dark house collective is great at building tension to a fever pitch and then, just when you think things can't get any more intense—boom!—confetti canons are going off in your mind (and maybe real life, too). The band's recent 12-inch EP, Onset of Decimation, is similarly explosive. (Full disclosure: I've booked them twice, because I want my guests to feel like they're on Molly even if they're not.)
[youtube=http://www.youtube.com/watch?v=GUL-WWUcM0U&w=615]
AUTRE NE VEUT
I'm still a little miffed at Autre Ne Veut (a.k.a. Arthur Ashin) for recruiting Cristi Jo Zambri to play with him, dooming another of my favorite New York bands (Zambri) to indefinite hiatus. But how could I stay mad at someone with a voice as beautiful as his? From the first haunting strains of "Play By Play" to the soulful wailing that ends "World War," his aptly named album Anxiety is devastatingly sad, sincere and lovely, not to mention brave; by wearing his heart on his sleeve, he is basically daring haters to take a big, steaming dump on it. Lead single "Counting," with its themes of death and loss, is an especially great take on lo-fi R&B (ruminating and bumming).
[youtube=http://www.youtube.com/watch?v=zrngEdJIkTo&w=615]
PARQUET COURTS
Between Light Up Gold and Tally All The Things That You Broke (both released this year), Parquet Courts' wiry art-punk manages to reference all the most beloved bands on a rock nerd's record shelf, from the Modern Lovers to Pavement, while still keeping current-day concerns front and center (as a broke young Texas transplant must, if she wishes to survive here). Whether they're wondering what it all means or simply which munchies to buy, their lyrics—written by Austin Brown and Andrew Savage—are startlingly sharp and poetic. And have you seen them tear it up live?
[youtube=http://www.youtube.com/watch?v=MzUMd9O-k3w&w=615]
MYKKI BLANCO
Ever since she was born from the mind of Michael Quattlebaum Jr., Mykki Blanco has been hard to miss. But this year, she was especially so, what with her copious touring, art world approval and impressively good EP, Betty Rubble: The Initiation. What started out as a radical performance art project has blossomed into a real hip-hop career, and now that Blanco has our attention, it's anyone's guess what she'll do next. But lest you try to paint her as the poster child for some sort of new wave of "queer rap," remember: She's a "queer" artist in that she plays around with gender but, more importantly, in that she's really fucking weird.
[youtube=http://www.youtube.com/watch?v=z_xA7Amc06k&w=615]
TEMPERS
Do you ever wish you could beam yourself back to the '80s and go see Joy Division or Siouxsie and the Banshees at some dirty club? Yes, me too, all the time. Luckily, New York is still full of black-clad post punks and cold wavers (don't call them goths) who are keeping hope alive—or dead, as the case may be. Tempers is one of the most enjoyable I've come across lately, the perfect band to listen to while dancing the pain away in some fog-filled warehouse. It has range, too, as showcased on the acoustic version of "Strange Harvest."
[youtube=http://www.youtube.com/watch?v=hcovM2QQiMU&w=615]
BLOOD ORANGE
2013 was the year that Dev Hynes went from cool kid favorite to international phenom. After writing two of 2012's biggest indie hits (Solange's "Losing You" and Sky Ferreira's "Everything's Embarrassing"), he turned his facility with wistful pop tunes to his own project, Blood Orange. The result, Cupid Deluxe, was praised by many for its smooth combination of bright '80s beats, washed-out textures and achingly sung lyrics about love gone wrong—the best kind of pity party. 
[youtube=http://www.youtube.com/watch?v=DfZMvTHJLUs&w=615]
PHARMAKON
Every time I listen to Pharmakon's Abandon, I feel like something terrible is about to happen. Margaret Chardiet's blood-curdling screams, flesh-mutilating electronics and ominous, slow-building compositions sound like they're coming from the depths of hell. Then I remember that terrible things are happening, both in Chardiet's dark imagination and in the real world, and I shiver. Make room, Swans and Throbbing Gristle: the grinding horrors of modernity have a new soundtrack.
[youtube=http://www.youtube.com/watch?v=R60lYkmXeA8&w=615]
JULIANNA BARWICK
I can't think about Julianna Barwick—or Pharmakon, for that matter—without thinking about the amazing four-way they had with Evian Christ and Pig Destroyer at this year's Basilica Soundscape festival. With its combination of grindcore howls, electronic beats, industrial noise and celestial "aahs," it was one of the most mind-blowing things any of us had ever witnessed (I took a poll). Barwick has done many other impressive things this year—touring with Sigur Rós, releasing an exquisitely crafted album, touring some more—but in my fitful dreams, I will always remember her as the angelic voice soaring above the roiling flesh pit to provide sonic salvation. 
[youtube=http://www.youtube.com/watch?v=GZ0PbsSKkp0&w=615]
HUNTERS
Hunters are a whole lot of fun. Their recent self-titled album is, in the best way possible, a real punch to the ears, but their live shows are even better, an exercise in exuberant head-banging, sub-pop sludge and death-defying speaker climbing. Pink-haired singer Isabel Almeida is especially committed to turning things up to 11. While they initially struggled to fit into the New York scene, they found plenty of kindred spirits to play with this year, such as Pissed Jeans, Speedy Ortiz and Roomrunner. They've already drawn comparisons to Mudhoney, the Stooges and the Pixies—and have worked with the likes of Nick Zinner and James Iha. If you enjoyed the louder side of college radio in the '90s, you will love this band. 
[youtube=http://www.youtube.com/watch?v=3IWs-3jw-TA&w=615]