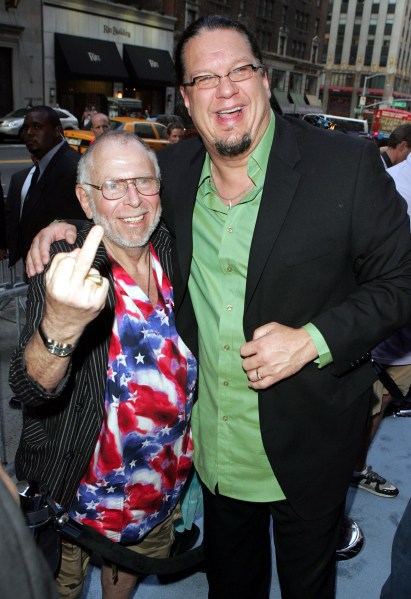 Earlier this week, rumors got out that Al Goldstein, the pioneering publisher of Screw magazine, had died. Those rumors turned out to be erroneous, but the news this morning is indisputable. Mr. Goldstein died today at 77, according to an obituary in The New York Times. The cause was reportedly renal failure.
Al Goldstein was a much more complicated man than the "crude, obese pornographer" character he himself helped create. He was a passionate defender of the First Amendment, and not just out of self-interest—he deeply understood how important it was to America's greatness and viewed its defense as the height of patriotism.
Al Goldstein was generous, both with his money and time. When I was new to New York City, he took me under his prodigious wing and introduced me to a crazy cast of first-rate cartoonists like Danny Hellman and Sam Henderson, classic NYC has-been celebs like Al Lewis, and a bunch of over-the-hill porn starlets who were still something to behold. He was an extremely proud Jew and that made an impression on me. I also was touched by how proud he was of his son, and how he wrangled a mention that the boy went to Harvard into every conversation.
Al Goldstein was a brilliant satirist—on his Midnight Blue TV show, "Mystery Penis Theater" was a recurring gag, and I remember watching Fast Times at Ridgemont High director Amy Heckerling explain that she was forbidden from showing DeMoan's privates alongside Stacy's because "male genitalia is more aggressive than female." My brother and I nearly croaked at a bit where the corpulent Al used a treadmill to jog between two tables loaded with cakes and sweets.
Al also had high standards and his product reviews were brilliant, habitually ending with him giving the product a double middle-finger salute in his "Death Before Marriage" T-shirt. One segment has Al crusading against Bose speakers. He shows his hack license and reminisces about the days when he was poor and dreamed of being able to afford good stereo equipment. Now he's got the best Bose on the market and how does it sound? "It's a piece of shit."
New York City has lost a true character and a good guy.
Below is a voicemail Al Goldstein left in the summer of 1994. The intention of his call was to date my girlfriend's Aunt Myrna.
[protected-iframe id="d3852556285c80e48b21109c070ac3c2-35584880-46107883″ info="https://api.soundcloud.com/tracks/125582793″ ]