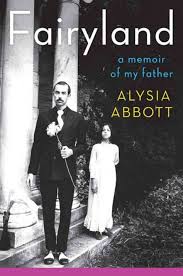 Sofia Coppola will turn Fairyland:A Memoir of My Father, Alysia Abbott's well-received memoir, into a movie. 
American Zoetrope announced yesterday that it had acquired the motion picture rights to Ms. Abbott's memoir about growing up with her father, the gay poet and activist Steve Abbott, in San Francisco during 1970s and 1980s before and during the beginning of the AIDS epidemic. 
"I love the book Fairyland; it's a sweet and unique love story of a girl and her dad, both growing up together in 1970's San Francisco. I think it will make an engaging and touching movie on a subject I've never seen before," Ms. Coppola in the announcement.
 Ms. Coppola will co-write the screenplay adaptation with Andrew Dunham, her frequent collaborator and produce the movie along with her brother Roman. 
"Sofia's understanding of the feminine perspective and the artistic vision that she shares with Andrew Durham make them ideal partners to make this movie. I could not be happier," Ms. Abbott said.
And of course, Ms. Abbott isn't alone in her excitement. 
"Elizabeth Riley, the book's publicist at Norton, had thought out loud about Sofia Coppola as the dream filmmaker for it with us – Alysia, me, and Amy Cherry, the book's editor –  back at one of the book's launch parties. So I just want to say that sometimes when publicists talk, angels listen. This is an absolutely ideal result and partnership," David Patterson, Ms. Abbott's book agent, told The Observer.
And after all, Ms. Coppola does have a history of turning literary books set in the 1970s into dreamlike movies: her first feature film was the 1999 adaptation of The Virgin Suicides, Jeffery Eugenides's first novel.