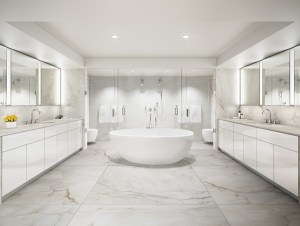 For those of you at home wondering about this year's record-setter in the niche category of most-expensive, non-penthouse, Upper East Side condominium contract, good news—barring circumstances unforeseen—is close on the horizon. Sources tell The Observer that a 19th floor combination at 737 Park Avenue, which was last listed as a sponsor unit with Macklowe Properties for $26 million, has entered contract at $25 million. If all goes well, the apartment should also take the title in the same category for year's priciest sale; the deal is slated to close before January 1st.
Built in 1940, 737 Park has recently undergone substantial renovations, courtesy of Handel Architects and Moed de Armas & Shannon Architects, to lend the building luxurious modern flair: Varenna kitchens with glass and aluminum cabinetry, Miele stainless steel, Dornbracht chrome and Italian marble await new residents. (Said residents remain, however, in this case, a mystery.) Whoever they are, they need not make use of their well-appointed kitchen if they don't want to. The building offers a "garden room with catering kitchen and adjoining courtyard," according to the listing. (But do you know any New Yorkers who don't love to cook? Unheard of, truly.)
With more than 5,500 square feet, including a media room,  and some 33 yards of Park Avenue frontage, the condo offers the visual pleasures of both high-tech gadgetry and the great outdoors—at least whatever vestiges persist at 71st and Park. And if address and square footage alone prove somehow insufficient to assure residents of their privilege and high standing, the unit features a staff room, a staff entrance, a butler's pantry and private elevator service, just so everyone keeps in mind who is who, and what is what.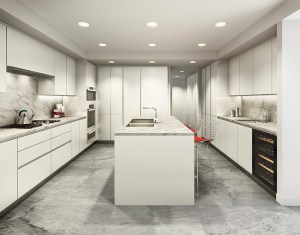 As the listing notes, 737 Park stands "amidst some of Manhattan's most storied apartment buildings." (The famed—and sometimes reviled—740 Park, home to Koch brothers, Rockefellers, Bouviers and more billionaires than any other building in the city is just across the way.) So we can almost sympathize with residents who feel a touch insecure about their status among the really rich kids. Almost.