[youtube=http://www.youtube.com/watch?v=r01rjeTAwf8&w=615]
This past Monday, Dev Hynes returned home to a terrible situation: his whole apartment had burned down, destroying everything he owned and claiming the life of his tiny puppy, Cupid. He posted the heartbreaking news to Twitter.
It's sad when this happens to anyone, but this could not have happened to a nicer or more talented dude. I know him a little, and he's an extremely open and lovely person, even when my friends and I are being crazy weirdos. The kind of guy you can talk to without worrying that he's looking over your shoulder to see if someone cooler is approaching. The kind of guy who will not hesitate to pose for a picture with your giant drunk ass (not a figure of speech; my friend literally twerked in his face and he thought it was funny).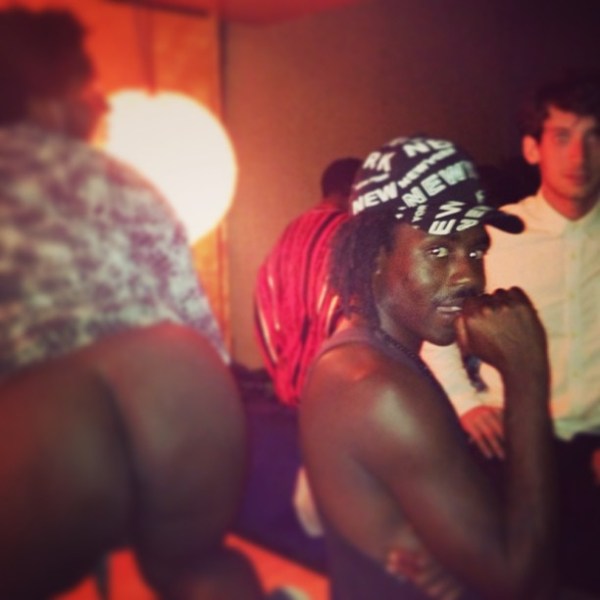 The saddest part of this story, of course, is not all the possessions that Dev lost, or even the music he was working on, but the loss of his furry friend. The world was just getting to know Cupid through the photos posted to social media by Dev and his girlfriend Samantha Urbani, and although he was still very young, he showed great potential to overtake Boo and Menswear Dog to become the greatest dog on the Internet. Who knows what feats Cupid might have accomplished, had he more time on this earth? He was taken from us too soon. Too soon.
I know there's nothing I can say that will bring Cupid back, but I can post a song in his memory, and that song is "Cupid" by Sam Cooke, a great oldie which set the tone for much wistful soul music to come. May Cupid find peace in doggie heaven, and may Mr. Hynes find the inspiration to keep on creating beautiful music from the saddest of things. His album Cupid Deluxe is pretty much killing it right now, so hopefully its namesake is feeling proud, wherever he is.
Dev and Samantha's band Gayer will be playing at Bushwick's Trans-Pecos (915 Wyckoff Ave) on Monday, December 30th.
UPDATE: I wasn't going to talk about the donation-soliciting GoFundMe page started by Samantha's mom in a fit of caring mom-ness, but Dev has since addressed it in pretty much the perfect way, saying that it was very nice of her to do that, but he knows there are a ton of people out there who need the money more than he does, so he's going to donate much or all of it to charity. For many folks, it seems the donations were shorthand for "we wish you the best," a way to connect and tell him he's not alone. Now that the message has been received, he's free to pay it forward to people whose circumstances might be drastically altered by such generosity.