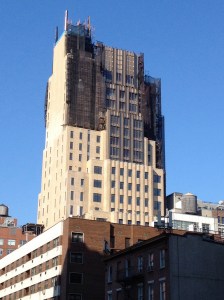 In a week during which the Thanksgiving holiday naturally dampened real estate transactions, a mere dozen contracts were signed at or above $4 million, according to Donna Olshan's luxury market report. Two properties, each listed for $12.25 million, tied for the top spot. And though the developers of 995 Fifth Avenue, which houses one of the units, are perhaps more recognizable—Frick, Carnegie, Vanderbilt—those responsible for the other, a four-bedroom condo at 212 West 18th Street, have certainly been making more recent waves. Known as Walker Tower—after its architect Ralph Walker—the building inspired chatter this fall with the listing of its Penthouse One at $55 million. (That unit entered contract last month for slightly less than the ask—but still over $50 million, according to sources—while Penthouse Two, which came to market slightly later, is currently asking $47.5 million.)
The building has very nearly reached sell-out, with just two other units left in a building that has what the Olshan report refers to as "some of the highest quality finishes ever seen in new construction in Manhattan." (In addition to Penthouse Two, a three-bedroom ninth-floor apartment can still be had for $8.88 million.) Given Walker Tower's massive living spaces, sweeping views and embarrassment of amenities, the building's sales record is unsurprising. (Douglas Elliman's Vickey Barron, who is handling a number of Walker Tower condos, including the penthouses, told The Observer some weeks back that sales had been driven largely by word of mouth, sparked not-insignificantly by early celebrity interest.) Drawing confidence, no-doubt, from their successes in Chelsea, JDS Development and Property Markets Group recently announced plans to double-down on the Walker legacy, Curbed reported last week.
Stella Tower, named for the architect's wife—and designed, too, by the auteur himself—will stand at 425 West 50th Street, in Hell's Kitchen. Possessed of surroundings considerably less charming and trendy than Walker Tower, the building will offer one to three-bedroom units priced from $1.5 million to $9 million. (We have to imagine that the aforementioned finishes will also suffer something of a come down.) But with the advance of Hudson Yards, and the inevitable attendant glitz-ification of gritty west side streets, who knows? Stella Tower just might give her sister building a run for its money. Then again, maybe not.