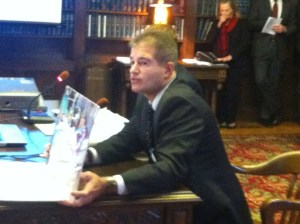 TRENTON – The state Assembly Judiciary Committee voted to approve a bill on Monday that will revise penalties for certain driving offenses, including requiring the installation of ignition interlock devices.
Two related bills, one (A3835) co-sponsored by Assembly members Ralph Caputo, (D-28), and Linda Stender, (D-22), the other co-sponsored by Sens. Nicholas Scutari, (D-22), and Jim Whelan, (D-2), were supported by testimony from representatives of Mothers Against Drunk Driving, the national anti-drunken driving organization.
"More than 20 years ago when I attended The College of New Jersey, a repeat offender drunk driver crashed right into me," said Steven Benvenisti, who serves on the state and national board of directors of MADD, as he held up a photo of the accident's aftermath. "Had the [ignition interlock device] technology been available back then, I would not have been involved in this crash. That is the reason why [these bills] are so close to my heart."
"This legislation is our top priority in New Jersey," said Frank Harris, the state legislative affairs manager for MADD. "An offender who wants to get their life back together can do so in a safe manner for them, and in a safe manner for the public."
The Assembly measure was approved unanimously 7-0, but with some amendments that will be finalized in the next few weeks, according to a representative from Caputo's office.