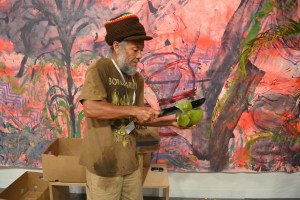 There were two extremely popular accessories at Art Basel Miami Beach yesterday, beyond the expected assemblage of handbags (a bounty of nice Céline and Hermès) and stilettos (the percentage of Louboutins in the room increasing throughout the day). One was a Little Sun, those cute little solar-powered lights that Olafur Eliasson and engineer Frederik Ottesen have designed. The Fondation Beyeler was selling them at their booth, and people were buying them up and wearing them proudly. The other was a huge green coconut, sliced open for easy drinking with a straw, that people carried about, sipping as they strolled.
Ask enough of those coconut carriers for directions to the supplier, and you eventually find yourself in the bar situated by the fair's Arts Nova section, which has been filled with foliage and artworks by artists Jim Drain and Naomi Fisher as part of a project with David Andrew Tasman. The coconut stand was situated in back, and a line snacked through the installation from where a man who identified himself as Clive wielded a rather impressive knife, hacking one coconut after the other and then slapping on a sticker with the title of the work: Paradise Working Title. (They're free, while supplies last.)
Mr. Drain happened to be in line behind us as we waited. He is tall, has a long beard, and is based in Miami year round. "Art Basel came to us, and said, 'We have this big donut hole, and you guys can do whatever you want,'" he told me. "And our idea was to show why we live in Miami."
That means lots of fresh coconut juice straight from the coconut ("You can also carve it into a monkey face," he enthused), lots of green plants and lots of medical assistive devices—walkers—that the artists have stacked and covered with fabric to form partitions. "You can take a walker home if you need one," Mr. Drain offered. (There is a ton of walking at these things.)
There's also a cash bar set up nearby if you prefer a bit of alcohol when making making your Basel rounds, but the fresh coconuts feel like the way to go, the perfect restorative medicine after a night in South Beach.