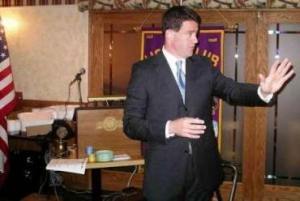 TRENTON – Gov. Chris Christie accepted Bill Baroni's resignation from the Port Authority of New York and New Jersey Friday.
Baroni was dismissed over the growing controversy surrounding a traffic nightmare that occurred in September when two of three lanes in Fort Lee were shut without advance notice, turning the George Washington Bridge host town into a parking lot.
Another N.J. appointee to the bi-state agency, David Wildstein, fingered by other Authority officials as the person who made the decision to close the lanes and who also ordered those officials to tell no one about it, tendered his resignation earlier.
And on Monday, N.Y.'s top official at the Authority, Patrick Foye, said that there was no traffic study conducted. On Nov. 25, Baroni had told N.J. lawmakers that the decision to close lanes could have been handled better, but that it was necessary to look into why Fort Lee had lanes dedicated to it at the expense of other bridge users.
Then on Thursday, Transportation Chairman Assemblyman John Wisniewski issued more subpoenas for documents from seven Authority officials, including Baroni and Wildstein, who is a former PolitickerNJ editor.
Deborah Gramiccioni, who has been director of the authorities unit and is a former assistant U.S. attorney, will move to the Port Authority.
Gov. Christie said he had planned this move for some time as part of his changes in a second administration.