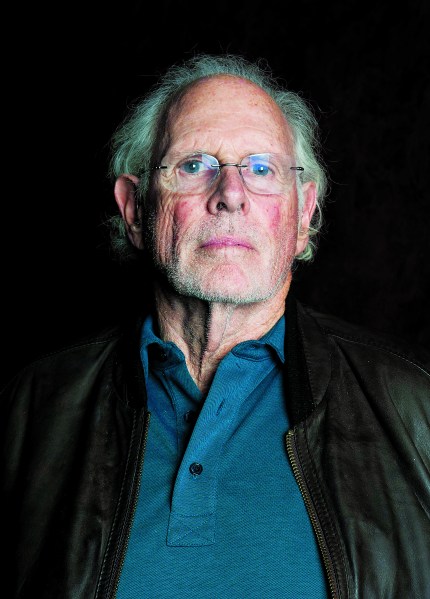 "You have a fabulous face, did anyone ever tell you that?" Bruce Dern asked the Transom when we met the iconic actor at the Ritz-Carlton last week. He leaned over to study our outfit. "Is this a cape? I love women who can drape."

At 77, Bruce Dern is still a charmer. If this instant familiarity were a tactic to get the Transom to endorse him in the upcoming awards seasons, though, he needn't have bothered. It's no secret that he has already earned a place on many people's short lists for this year's Ocars (for a role in which he has fewer lines than most of his supporting cast). Today it was announced that he has been nominated for an Golden Globe as well. In Alexander Payne's Nebraska, Mr. Dern plays Woody Grant, an aging father to Will Forte's David Grant, whose taciturnus has begun to veer into the early stages of dementia: monosyllabic,  vacant eyes and a posture that has already admitted defeat. Mr. Dern, chatty and vivacious in person, would appear to be the complete opposite of his character, but he was quick to stress of how deeply he relates to the Woodys of the world.
"Where I grew up, when you go 120 miles due west from Lake Michigan, it becomes real black-and-white," he said. "All the way to the Rockies, that's 1,400 miles. Once you get out there, it's apparent there's a few things that go on there that don't go on here. Honor, fairness, honesty and respect for who they are. Because it's bleak there, it is black-and-white there."
The role of Woody was one the veteran actor had to fight to earn. After reading the script, he called Mr. Payne and lobbied for himself, while the studio pressed the director to audition every older big-name actor they could think of, even trying to entice Gene Hackman out of retirement. Nebraska has already won Mr. Dern the Best Actor award at Cannes, a turn of events so unexpected that the actor had already skipped the country.
"Maybe there is a place where I'd be a hero, where Woody would be a fucking hero," he said. "Let me explain it like this: When we first came to Hollywood, we were lucky, because we still got to work with the legends. There were still legends to work with. They were bigger than life. And Alexander sees Woody as almost bigger than life, lost in the tapestry of a fading America, something that's not gone, but going. But it's not going to stop. It's the heartland of the country."
Our time was almost up, as Mr. Dern needed to continue his whirlwind promotional campaign. Instead, the actor invited us to accompany him to his next appointment, a radio interview downtown, so we could continue conversing.
On the way to the SUV: "I get pissed off when I read reviews that refer to Nebraska as a flyover state. Like, who gives a shit what goes on there."
Then, once ensconced in our ride, Mr. Dern revealed a more personal connection to his character.
"There's a scene where I'm going through the house where Woody grew up, and it's falling apart," he said. "Now I didn't grow up poor, I grew up with a lot of privilege, a lot of important people were getting shit done. So as I go upstairs, I say, 'This was my parents' room. If I got caught in here, I'd get whipped.'
"Well, it was similar in my house," he continued. "If I opened my mouth and said something that didn't need to be said, I'd get pounded."
Mr. Dern's face, animated a moment before, went simultaneously hard and slack. He mumbled to himself, "Well, I guess there's nobody around now that's going to pound me anymore."
This pronouncement hung in the air while our mammoth SUV sat stuck in traffic. An uncomfortable silence took hold, and we considered asking the driver if maybe he could just drop us at the corner.
Mr. Dern snapped out of it, with a conspiratorial wink. "So this gives you an idea of how an actor gets to where they get in a scene," he said.
Right, he was quoting his character just then—but still. Jesus.
The Transom must have looked a little dubious. "Oh, what you see is absolutely Bruce Dern," he explained, "but Bruce Dern as Woody Grant, because we've been in exactly the same situation."
Perhaps unsurprisingly, Mr. Dern studied with Elia Kazan at the Actors Studio, "where you start from the inside out, as opposed to the British method, where they get the manner of the character and work backwards from there. Shit, I could never do that. I could never do Shakespeare."
"Why not?" we asked.
"There's just too much I want to do here, about people, without going back to some guy who was the Alexander Payne of his time, however many years ago," Mr. Dern told us. "Shakespeare was writing about the people he saw around him, but now they're the people you'd see at Renaissance fairs."
He paused.
"Do they even have those anymore?" he asked.
"Renaissance fairs?"
"I'm asking, because they were probably a big deal to you when you were little, right?"
He wasn't wrong.
"I bet you wore a cape then too," he smiled.
And with that, the Transom officially endorsed Bruce Dern for Best Actor. —Drew Grant