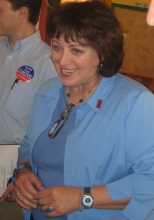 Following a meeting of GOP party insiders this past weekend and in anticipation of Bergen County Republican Chairman Bob Yudin's formal endorsement of her re-election, Bergen County Executive Kathe Donovan today officially backed Yudin for another term as chairman.
"I write to you today to endorse Bob Yudin for Bergen County Republucan Chairman and to thank him for his endorsement of my re-election as County Executive," Donovan wrote to party members. "2014 will be a critical year for the Republican Party here in Bergen County. To accomplish our goals we must stand together united."
Donovan acknowledged that she and Yudin have had their differences.
"That said, he has demonstrated that this party's strength is in the fact that we can have our differences but at the end of the day we come together to ensure that we provide the government to the residents of Bergen County that they deserve," Donovan added. "Bob deserves re-election."
At a meeting at his office brokered by Assemblyman David Russo (R-40) at the behest of state Sen. Kevin O'Toole (R-40), Yudin and Donovan committed to each other's candidacies.
State Sen. Gerry Cardinale (R-39) also attended the meeting in a show of support for the intra-party peace.
Yudin plans to make public his support for Donovan at a unity rally next Tuesday at BCRO headquarters.