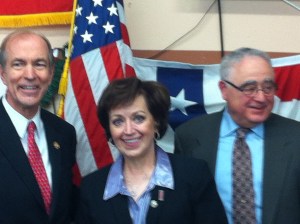 HACKENSACK – On a snowy day in Bergen County's capital, Hackensack still did not freeze over. But for many political observers of Bergen's strife-torn Republican Party, Hell did.
Longtime GOP rivals Bergen County Executive Kathleen Donovan and Bergen Republican Chairman Bob Yudin stood together in front of a crowd of close to 50 people at Bergen GOP headquarters in Hackensack and declared a truce, proclaiming unity in the face of what could be a bruising 2014 re-election campaign for Donovan.
"Kathe Donovan has been in Bergen County elective office for many years, and her name recognition and record of service to the residents of our 70 municipalities is unparalleled," Yudin said. "We don't always agree on the issues, but that's what makes the Republican Party stronger – respect for our differences. I support Kathe Donovan for her re-election to County Executive, and ask that all Republicans come together and do the same. Only together will we win in November.
"This has been something that needed to be done," Yudin added. "The unity of our party in Bergen County is paramount above all. There is so much at stake this November."
"I know that some of you are here tonight with a little bit of a skeptical eye. So the question is: Is this real? The answer: Yes, it is real," said Donovan, who was elected County Executive in 2010. "It's because of that skepticism that Bob and I decided that it was important to come together here tonight to jointly end all the speculation about the upcoming year. It's where we agree that's most important.
"I read a statistic that when my predecessor [Democrat Dennis McNerney] was County Executive, there were 10,000 Freeholder votes, and they never once disagreed. That can never happen again. That is not debate. That is not good government. That will never happen with us, huh Bob?" Donovan added as the crowd laughed.
Donovan officially backed Yudin for another term as chairman last week.
Donovan and Yudin have struggled for control of the Bergen Republicans for years, a conflict heightened by the fact that Bergen, New Jersey's most populous county, is seen as the bellwether county in statewide elections. The tension between the two was evident four months ago, when Donovan, the county's top Republican elected officeholder, was not listed on the host committee set to greet Gov. Chris Christie at a Bergen County Republican Organization fundraiser in August.
More recent clashes have put a spotlight on the Bergen GOP civil war.
Republican Freeholder John Mitchell's close defeat last month was a sore point among Bergen Republicans after Yudin stated in a Nov. 17 letter addressed to Bergen Republican leaders that "if [Bergen County Republican Executive Kathleen Donovan] had advocated everyone, all three Republican Freeholders would have won."
"A weekend before the election, the county executive was part of a bullet e-mail campaign for [Freeholder] Maura DeNicola," Yudin told PolitickerNJ.com on Nov.18. "She sent out an email that said 'Vote for Maura." She didn't say vote for [Freeholders John Felice and John Mitchell]. That's despicable. I did everything for the whole team."
Donovan has denied any bullet campaign effort for DeNicola.
This intra-party discord adds to the challenges faced by Donovan as she seeks re-election. She must deal with lingering lawsuits borne of the struggle between Donovan and the county freeholders over plans to merge the Bergen County Police Department and the county's Sheriff"s Office. Donovan is opposed to the plan, while the majority of the freeholder board, now controlled by the Democrats by a veto-proof 5-2 margin, support the move. During her battles with the freeholder board, Donovan has used her veto power more than 25 times since taking office in January 2011.
The public problems of Alan Marcus, the consultant who managed Donovan's victorious campaign in 2010, have made some political observers wonder if Marcus's dilemmas could derail Donovan's re-election effort.
The positioning of U.S. Sen. Cory Booker, who was raised in Bergen and is perhaps the most popular Democrat in the state, at the top of the Democratic ticket in 2014 is another hurdle for Donovan.
But in the snow in Hackensack, the new era of good feelings declared by the Bergen GOP left the landscape clean and white, not yet trampled along the muddy road to November.
"This is a wonderful evening, because it's all about moving forward, and that's what we have to do as Republicans," said Freeholder DeNicola, who joined with Assemblywoman Holly Schepisi (R – 39), Assemblyman David Russo (R-40) and U.S. Rep. Scott Garrett (R-5) in the demonstration of Bergen GOP unity. "Tonight, as a single voice, we move forward as a party. We are here to stand together, the way it should always be."
Donovan and Yudin stood together afterwards to explain to PolitickerNJ.com why they chose to mend fences.
"We sat down and talked, and we both care passionately for what we believe in. We know we can work much better together than separately," Donovan said. "It only took about 45 minutes at Assemblyman Russo's office on a Sunday morning to work things out. [State Sen. Gerald] Cardinale (R -39) and [State Sen. Kevin] O'Toole (R – 40) were all very helpful. I certainly support Bob, and he supports me."
Both Yudin and Donovan said that there was no quid pro quo to achieve peace in our time among the Bergen Republicans.
"Something is wrong when you agree on everything. There's going to be some differences on policy, and it's OK," Yudin said. "We need to be united. A more important person than I said it best: a house divided cannot stand. The Republican Party can't win in Bergen County unless we're united."