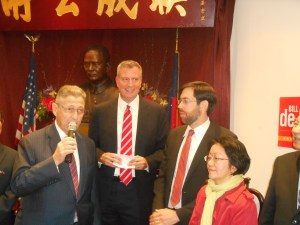 If there were any lingering doubts that the Democratic-controlled State Assembly would get behind Bill de Blasio's legislative agenda, they were dispelled today, according to the mayor-elect.
Mr. de Blasio met with Assembly Speaker Shelly Silver and his colleagues in downtown Manhattan this afternoon, netting their expected–but crucial–support.
"It was very warmly received by the assembly members," Mr. de Blasio told reporters after the meeting. "We got a very clear vote of confidence from the assembly members in the room, a lot of energy, a lot of willingness to help us make this a reality."
A centerpiece of his mayoral bid, Mr. de Blasio's proposal calls for a tax hike on those making more than a half million dollars a year to fund expansive pre-K and after-school programs. Raising income taxes requires the approval of the State Legislature and critics have assailed Mr. de Blasio's plan as quixotic because the State Senate, partially-controlled by Republicans, and Gov. Andrew Cuomo could torpedo the plan.
The political winds, however, may be shifting. As Mr. de Blasio noted again today, a Quinnipiac Poll last week showed the plan has broad support across the state, and Jeff Klein, a leader of the breakaway faction of Democrats governing the Senate with Republicans, has indicated he will back Mr. de Blasio's proposal.
"These are very powerful numbers that confirm what I felt for a long time, that we're not only experiencing extraordinary support for this plan in New York City, which the election results make clear and all the polling make clear, but it goes well beyond New York City," Mr. de Blasio said.
The mayor-elect also said he would unveil a "working group" that will focus on passing his plan in Albany in the coming days and promised a full campaign to bolster the proposal. His pitch to Republicans reluctant to raise taxes, Mr. de Blasio explained, would echo the pitch he gives everyone else.
"I'm gonna say to Republicans and to all New Yorkers that the public supports this for a reason," he said. "The public of this city and this state understand that we are falling behind educationally, that a lot of our children are not given the education they need to succeed."