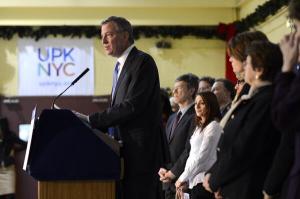 Mayor-elect Bill de Blasio today rolled out a new campaign tasked with turning his central promise–raising taxes on the wealthy to fund universal pre-K and afterschool programs–into reality.
"I believe than an absolute necessarily step forward for this city is to achieve the tax on the wealthiest New Yorkers so we can have full day pre-K for every child and after school for every middle school child. And we will proceed vigorously to get that done in Albany," Mr. de Blasio told reporters at the Friends of Crown Heights Educational Center in Brooklyn.
Leading the charge will be "UPKNYC," which the mayor-elect described as a "grassroots campaign to make sure that this vision becomes a reality."
"This will be an extraordinary effort, in fact, to ensure that this legislation is passed in Albany," he raved. "You're going to see a fast, vigorous effort to mobilize as many New Yorkers as possible."
The group, he said, will work hand-in-hand with his new Director of Intergovernmental Affairs Emma Wolfe, his just-appointed budget director and an already appointed task force to lobby Albany lawmakers, who must approve his plan.
Of course, a little celebrity helps as well. Among the big names that have signed onto the effort are Sex and the City star Cynthia Nixon, actress Olivia Wilde, producer Harvey Weinstein, singer-songwriter John Legend, star academic Jeffrey Sachs, the Rev. Al Sharpton and Pastor Michael Walrond, he said.
The 501c4 expects to raise money from individuals, foundations and organization, and will disclose its donors regularly, a spokesman said.
Mr. de Blasio also doubled down on the need for the cash to come through tax hike as opposed to another revenue stream. Many remain skeptical Gov. Andrew Cuomo and other lawmakers will be open to passing any hike in an election year.
"We need it to be constant. We need it to be steady," argued Mr. de Blasio. "We want a stand-alone revenue stream. One we can depend on and one that comes from our own citizens."
The effort kicked off with a video, narrated by Mr. de Blasio's wife, Chirlane McCray, which was sent today to supporters and posted on the initiative's new website.
View the video below:
[youtube=http://www.youtube.com/watch?v=mH_3gyhpSpU&w=560&h=315]
Updates at 6:08 p.m with additional details about the campaign.