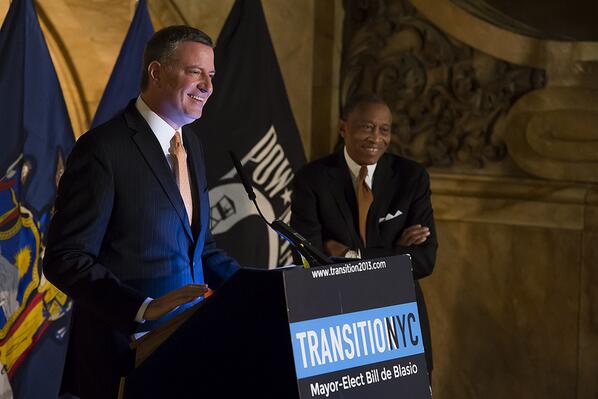 After taking a number of days off for the holidays, Mayor-elect Bill de Blasio emerged today to announce the hire of Zach Carter for his administration's corporation counsel post.
Admitting that many New Yorkers may not be familiar with Mr. Carter, a former federal prosecutor and judge, or the corporation counsel gig itself, Mr. de Blasio nevertheless stressed the position's importance. 
"Many New Yorkers don't know exactly what the corporation counsel does. But I can tell you it's one of the most central roles of government. It's one of the roles that touches literally every part of government and therefore the lives of every New Yorker," Mr. de Blasio told reporters at a press conference near City Hall.
He further vowed that every "piece of legislation or executive order or any major action that we take" will be influenced by Mr. Carter, whom he said had an unquestionable record of fighting on behalf of the needy both in the public and private sectors.  "If anyone has ever worked to end the 'Tale of Two Cities,' … that person is Zach Carter," he said.
Mr. Carter, who is black, also adds another element of diversity to Mr. de Blasio's inner circle. Councilman Charles Barron, a staunch de Blasio critic, recently slammed the mayor-elect for his transition's alleged lack of inclusiveness, writing on Facebook, "Only Whites and Latinas have been selected [thus far]. Some from the Giuliani administration and Goldman-Sachs. So much for progressive!"
Michael Cardozo, the current corporation counsel, has been involved in many of Mayor Michael Bloomberg's most high-profile initiatives and controversies, including those regarding stop-and-frisk, soda cup restrictions and the new outer-borough taxi system.
View the full press release unveiling Mr. Carter's hire below:
Mayor-Elect Bill de Blasio today appointed Zach Carter, a former US Attorney, as New York City's next Corporation Counsel. As the top legal counsel to the City of New York and head of one of the nation's largest public law firms, Carter will be charged with helping execute legal and legislative aspects of the incoming administration's progressive agenda—from expanding the paid sick leave law, to establishing new mandates for affordable housing and protecting community healthcare.

Carter is an accomplished attorney who has spent his career in the private and public sectors ensuring that all people are treated equally under the law. As United States Attorney for the Eastern District of New York for six years, Carter led an office that shut down dangerous gangs of inner-city crack dealers, exposed securities fraud boiler rooms allied with organized crime, and prosecuted international criminal organizations engaged in human trafficking and modern day slavery. Carter has rightly earned a reputation as a dogged defender of New Yorkers' civil rights, and led the prosecution in the Abner Louima case and the federal prosecution of those responsible for the death of Yankel Rosenbaum during the Crown Heights riots.

"Zach Carter has been a fighter and a conscience for this city throughout his career. He's shown his character, his toughness and his resolve prosecuting dangerous criminals and protecting those who have been wronged. We are honored to have him represent this city and our administration," said Mayor-Elect Bill de Blasio.

"This administration is going to do powerful things to lift up vulnerable New Yorkers and put our city on a progressive path. I'll use all my experience to help our new mayor achieve what he was elected to do, and to make sure we uphold and protect the rights of New Yorkers in everything we do," said incoming Corporation Counsel Zach Carter.

About Zach Carter:

Zach Carter owns an unparalleled record of professional achievement as a prosecutor, defense attorney, private litigator and US Attorney.

Carter began his career as an Assistant US Attorney for the Eastern District of New York in 1975. Over the following two decades, he rose to become the Eastern District Criminal Division's Deputy Chief, Magistrate Judge, and US Attorney—becoming the first African American to hold the post.

As US Attorney for the Eastern District of New York from 1993 to 1999, Carter developed a national reputation as an effective prosecutor. He brought dozens of drug and racketeering prosecutions, targeted organized crime, and took down interstate drug gangs. Carter aggressively defended the civil rights of New Yorkers during his tenure, and led the prosecution in the Abner Louima case.

Carter is currently a partner at Dorsey & Whitney LLP, one of the country's most respected law firms. He serves as Chairman of the New York City Mayor's Committee on the Judiciary. Carter is a Life Member of the Board of Trustees of the New York University School of Law and a member of the Board of Directors of the John Jay School of Criminal Justice Foundation. He also serves as Chairman of the Board of Hale House, a Harlem charity that provides social services to children and homeless families.

Carter is a graduate of Cornell University and New York University School of Law.