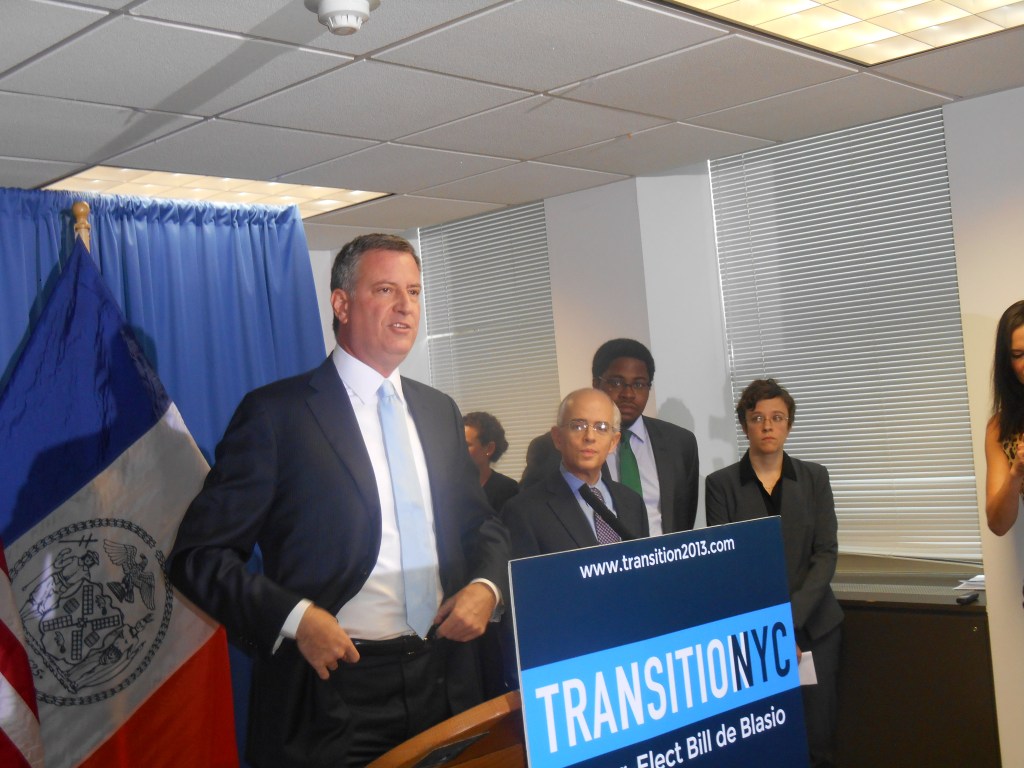 Unveiling his first deputy mayor and two other top administration posts today, Mayor-elect Bill de Blasio stressed that a potent right-hand man would be pivotal to the day-to-day functioning of City Hall.
Anthony Shorris, the soon-to-be first deputy mayor, will be a crucial figure over the coming years, Mr. de Blasio said.
"I have the perspective of four administrations. I came to the very strong belief early on that we want a first deputy mayor, not a deputy mayor for operations, not a group of folks where chain of command may be unclear but a first deputy mayor," Mr. de Blasio told reporters in a cramped conference room this morning across the street from City Hall. "There is going to be a lot that happens in this city where decisions have to be made very quickly and when it's an important decision, a strategic decision, the buck stops right here."
But, Mr. de Blasio underscored that Mr. Shorris would be his absolute second-in-command, granted a wide degree of autonomy to make blockbuster decisions. If Mr. de Blasio is gone from the city Mr. Shorris will, in essence, be the acting the mayor, he said.
"I will be a hands-on mayor making a lot of those decisions but there's a lot of things that have to happen operationally, there's a lot of decisions that don't rise to the level of the mayor and I want everyone to know where the buck stops in all those other situations and it stops with Tony Shorris," Mr. de Blasio continued. "There's very few people who've had this kind of range of experience, it's absolutely extraordinary.
Mr. Shorris embodies the steady, well-traveled hand that many political observers said Mr. de Blasio, short on executive experience himself, would require in his administration. A veteran of the Port Authority, Department of Education, Office of Management and Budget, Mr. Shorris, who first served in the Koch administration, will be entrusted with enacting much of Mr. de Blasio's sweeping liberal agenda while ensuring it remains fiscally sustainable.
"Bill de Blasio was elected because he had a clear vision, a vision of progressive change," said Mr. Shorris, a soft-spoken man who was dwarfed by Mr. de Blasio in height. "It means … creating a competent, effective and efficient city government that New Yorkers have come to expect."
His executive experience with the Department of Finance and OMB will be especially valuable, Mr. de Blasio said, in navigating the delicate process of negotiating new labor contracts with municipal employees. With unions demanding retroactive pay raises that fiscal watchdogs believe would cripple the city's economic health, Mr. Shorris will need to strike a delicate, difficult balance.
"We've literally never seen all open labor contracts simultaneously in the history of this government. The only way to create the leadership that can handle that is someone who has been to the mountain top and really experienced and understood this work," Mr. de Blasio explained.
His other two picks, Emma Wolfe as director of Intergovernmental Affairs, and Dominic Williams as chief of staff to Mr. Shorris, represent the ascension of two trusted young aides who lack the gray hairs–though not necessarily the political acumen–of Mr. Shorris.
Ms. Wolfe was Mr. de Blasio's first chief of staff in his public advocate's office and later played an influential behind-the-scenes role in his startlingly successful mayoral campaign. She will be charged with the prospect of lobbying elected officials from the City Council to Congress to win approval for the pieces of Mr. de Blasio's agenda that will need legislative blessings. A longtime labor operative, Ms. Wolfe will be tasked with ensuring that the centerpiece of his campaign, a tax hike to fund universal pre-kindergarten, is passed by the State Legislature.
But both Ms. Wolfe and Mr. de Blasio refused to reveal the finer points of their planned strategy.
"The people are behind Bill's agenda, we are going to turn that support into a broad movement that passes a stronger living wage and paid sick leave legislation in the City Council, that secures a tax on the wealthiest New Yorkers in Albany to pay for universal pre-K and after-school programs for every middle schooler and fights for an urban agenda in Washington that properly invests in housing, transportation and our fair share of Sandy relief," Ms. Wolfe said.
When introducing Mr. Williams, Mr. de Blasio spoke to the East Flatbush native's Caribbean heritage as a symbol of his administration's diversity. A chief of staff in the public advocate's office after Ms. Wolfe, Mr. Williams also served on President Barack Obama's 2012 re-election campaign.
Speculation had swirled around both Ms. Wolfe and Mr. Williams as potential chief of staffs to Mr. de Blasio himself, but in a nod to the relatively few responsibilities his public advocate post holds, Mr. de Blasio implied Mr. Williams wasn't quite prepared yet hold that high a rank.
"The roles in the humble public advocate's office versus I think–I think the difference is what we have, we have about 30 full-time staff and we're going up from that to about 300,000 so I think it's a different governmental structure," Mr. de Blasio told Politicker, adding that, nonetheless, "Dom is going to be a very central player in our administration by definition."