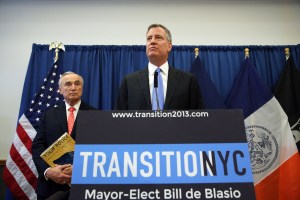 In keeping with his everyman persona, Mayor-elect Bill de Blasio today announced his plans for "an inauguration for all New Yorkers," which will include ceremony tickets for the public and an open house at Gracie Mansion.
As he comes under scrutiny for reportedly hiring big-name consultants to guide his transition efforts and deciding to trade his modest Brooklyn row house for the plush Upper East Side mansion, Mr. de Blasio's team said next month's inaugural events "will feature an unprecedented level of access for the people of New York"
Mr. de Blasio's inauguration will take place at noon on January 1 on the steps of City Hall, where he'll be joined by incoming Public Advocate Letitia James and incoming Comptroller Scott Stringer. For the first time in recent memory, his team said, tickets to the ceremony will be available to the general public. After, Mr. de Blasio and his wife, Chirlane McCray, plan to greet attendees inside City Hall.
Four days later, the mayor-elect will hold an open house at Gracie Mansion, where he's decided to move in the new year, after weeks of deliberation. "Welcoming residents from all five boroughs to tour the historic building, the Mayor-elect and Ms. McCray will greet New Yorkers in the people's house," a press release declared.
"Mayor-elect de Blasio has pledged an Inauguration for all New Yorkers, and that's what New Yorkers will get in these ceremonies," inauguration chair Gabrielle Fialkoff said in a statement. "From spending hours at City Hall after the swearing-in meeting attendees, to opening up Gracie Mansion for anyone and everyone to attend, Inauguration 2014 promises to be one of the most open and accessible swearing-in events in New York City history."