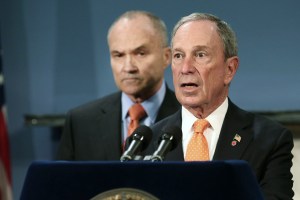 After touring the five boroughs to tout the city's progress over the last 12 years, Mayor Michael Bloomberg is again turning his focus to crime-fighting.
Mr. Bloomberg appeared in Jamaica, Queens today to boast how, in his eyes, the city has helped former criminals and at-risk youth avoid returning to lives of crime.
While relations between Mr. Bloomberg and minority communities, particularly in places like Jamaica, grew strained over the years, today was a day for the outgoing mayor to show the progress he had made, pointing to the fact that crime is down dramatically over the past 12 years, despite a 36 percent drop in the city's incarceration rate.
"The result is that our city is safer than it's ever been, certainly safer than in modern memory and one that's reduced our rate of incarcerations to levels not seen in more than 20 years," Mr. Bloomberg said at a press conference within a Department of Probation building in downtown Jamaica. 
Between 2001 and 2012, the number of inmates in city jails fell 18 percent, from 14,490 to 11,827, according to city stats.
Mr. Bloomberg pointed to his Young Men's Initiative, a public-private partnership partially funded with his own cash that aims to aid young black and Latino men who lag behind their peers in basics like jobs and education, and the Neighborhood Opportunity Network, a network of community organizations and government agencies that connect those on probation to literacy, employment and academic programs.
After a 24 year-old South Jamaica resident named Michael Smith spoke about the benefits of such programs, Mr. Bloomberg–not always known for his personal warmth–turned to Mr. Smith to give him a quick pep talk. 
"People can give you a hand, they can help you up, but in the end you're an adult and it's up to you," Mr. Bloomberg said. "There will be times when it's tough and you think that everything's going against you and that's the time you just have to grit your teeth and say, you know, nobody's gonna–they can help you–but in the end, you gotta do it yourself."
Before the event,  Mr. Bloomberg's Deputy Mayor Howard Wolfson blasted out a memo crediting Mr. Bloomberg and his Police Commissioner Ray Kelly for driving down crime.
The city is on pace to finish the year with a record-low murder rate, with 329 murders as of last Sunday, versus 413 at this time last year, according to the mayor's office. That's despite a dramatic drop in the number of stop-and-frisks, following sharp criticism from civil liberties activists and a federal court ruling that found the city's implementation of the tactic unconstitutional.
Overall, major crime is down 32 percent from when Mr. Bloomberg took office in 2001, despite a growing population and fewer cops. Major crime, however, is up slightly over the past two years, thanks to increases in felony assaults and grand larcenies, which police have largely attributed to a spike in iPhone thefts.