Linda Delcher isn't waiting around for a man to buy her a diamond ring this holiday season. As she strides into the 1884 Collection, it's clear she's doing that all by herself. And why shouldn't she? "Buying jewelry makes me happy!" she exclaims, "My desire to own – or as Elizabeth Taylor said act as the guardian for – beautiful, intriguing pieces that tell a story or evoke a feeling."
And that's easier to do when she picks those pieces out for herself, as she notes that, for her, buying jewelry is like buying clothes.
50 years ago, she might have had to wait around for a man to give her pieces, and hope he got the right ones when Christmas rolled around. A woman buying her own jewelry might even feel a sense of shame that she didn't have a lover showering her with gems. But today, the only shame women feel is if her bonus wasn't big enough to afford her a flawless one.
"Nowadays, women are independent," says Manuel Carrera, founder of the Spanish jewelry firm Carrera y Carrera. "The contemporary woman doesn't need to wait for her boyfriend or her husband to buy her a jewelry piece."
It's true that modern women are more financially independent than they ever have been before, but they're also more proud of their independence. They deserve something sparkly to show for it.
Verdura CEO Ward Landrigan has been in the jewelry business since 1964 and he remembers that it used to be that whenever women would treat themselves to decadent jewels, they would lie about buying the gems
themselves. "They were ashamed there was no man to buy it," he explains.
Not anymore. Being able to buy your own jewels connotes a level of success that's part of the "having it all" package that 21st century women strive for. Other women won't look askance at a woman who bought her own sparkler so much as they're going to high five her. Choosing a major piece of jewelry for yourself has a practical perk.
"Women are going to make better purchases for themselves than men," says Landrigan. "You wouldn't send your boyfriend out to buy you a dress."
Patrick Toth at Leviev has noticed that women are so in control of their jewelry purchases now that he's even less likely to see men buying engagement rings on their own. "Women used to basically get what they were given. The guy shopped alone and she accepted it. Now it's completely flipped. The woman comes in alone. She already knows what she wants."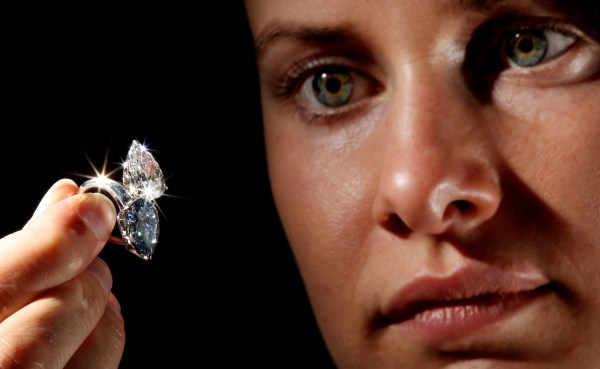 But how do you find out what you want?
You've got to literally shop around. Some people feel there might be a stigma about going into high end stores – especially if you're not planning to buy that day. Stop worrying! They're happy to see you, and have you try pieces on at your leisure. "It pays to shop," says Mr. Landrigan.
And you will find pieces you love. It's nearly impossible not to be enraptured by opulent statement pieces like one of Leviev's exquisite colored diamond rings, Carrera y Carrera's brash and beautiful yellow rings, the elegant La Dolce Vita inspired jewelry from the 1884 Collection, Verdura's whimsical gemstone pieces and scrumptious Mahogany and Cognac diamonds from Reinstein Ross.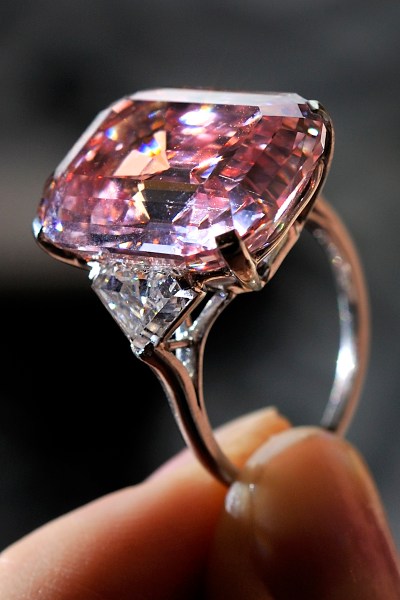 According to Mr. Toth, the rarest and most popular color diamond is pink, but Andrew Schloss says that mahogany diamonds are the most coveted among his clientele at Reinstein Ross. What explains this disparity? Either personal style or the fact that depending upon the specific gem, you can get larger white, yellow and brown diamonds for a much smaller price than you would for a petite pink stone.
They'll make you start hoping for a really big bonus immediately.
Of course, if you're not looking to invest in a rare million dollar pink diamond, and just want a gorgeous everyday piece in the $10,000 range (it will seem completely reasonable after you try on the million dollar ones, almost as though you're suddenly scoring a bargain at a rural yard sale) there are a myriad of high quality gemstones available, too.
Verdura's most popular style is the "Candy Ring" which features a large gumdrop shaped gemstone. Because they make the ring with practically any kind of gem in any color, the possibilities are almost endless, but Landrigan also says that sometimes clients see one example and lack the imagination to see it in another color.
Just as people may not realize diamonds come in all shapes, sizes and shades, they may also forget that garnets and sapphires also come in practically every color of the rainbow.
Of course, as great as gemstones are, diamonds will always be known as a girl's best. friend. Alberto Petochi, the founder of the 1884 Collection, says it's because "diamonds have long been associated with love and commitment, so it is no wonder that women can't get enough of them."
Because if, as Oscar Wilde quipped, 'loving oneself is the beginning of a lifelong romance', that's a love affair that's worthy of a ring.