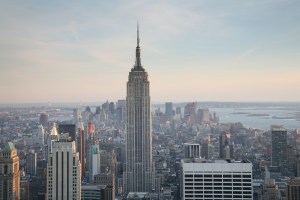 Despite all the romantic blubbering to the contrary, the view from the top of the Empire State isn't priceless; it's worth $60 million a year. The enviable sum that the observation deck brings in, long speculated over, set other developers' hearts aflutter when it was recently revealed as part of the building's IPO proceedings. And now more and more of them are rushing to get into the observation deck business, according to Crain's. If you're going to build castles in the sky, why not get as much as you possibly can for the views?
With the Manhattan skyline dotted with an ever increasing number of cloud-busting towers, it's not all that surprising to learn that many developers are considering new ways of capitalizing on their brand-new views.
"If you have a very tall building with great views, it's a business that you're starting to think about," Annu Chopra, a principal at Atalanta Advisors, told Crain's. Not that such additions come cheaply; the paper reports that the new deck at 1 WTC is costing some $60 million to build. Nonetheless, if it can pull in anything like the Empire State building—where tickets start at an astounding $27 (access to the top deck is an even more astounding $44)—the initial outlay doesn't look so bad.
But while both Related and SL Green are planning observation decks for their spires (at Hudson Yards and by Grand Central respectively), it's unlikely that the city's rising skyscrapers will add many decks to the mix, first and foremost because so many of them are residential towers, their pinnacles reserved for condo buyers who aren't generally fond of sharing their spaces with lesser folk not in their employ.
For example, all the new towers along 57th Street will be keeping the visitors—shops, restaurants, hotels—on the lower floors, while developers turn the best views over to super-prime buyers, catering to the over-heated residential market, rather than the somewhat sluggish commercial one (indeed, the Empire State's observation deck business is helping to prop up its somewhat anemic commercial rents). Not that an observation deck couldn't conceivably be added to a residential tower—and Extell's Gary Barnett apparently told Crain's that he is interested in getting into the observation deck business—the logistics are complicated. Luxury residences trade, in no small part, on their reputation for exclusivity, which is unlikely to involve inviting tourists to tromp around anyplace that residents might have to see or interact with them. (For example, the lobby for the residences at the Time Warner Center is sequestered far away from the public spaces, a division partially made possible by a location with an unusual abundance of street frontage.)
There's also another potential problem with building new observation decks: in order to haul in the same kind of cash as the Empire State or Rockefeller Center, the rising skyscrapers need to become icons, brand names not just in New York, but in Boise and Belize—the kind of name that will get a nod of recognition when dropped back home. Which is an increasingly difficult task in a city chock-a-block with new skyscrapers all vying for distinction in an ever-rising skyline.
But for the rest of us, at least there is one advantage if an upsurge in observation decks comes to pass: should Central Park and the streets around it be bathed in perpetual shadow by the row of skyscrapers rising to its south, at least the hoi polloi will have a few places to get some sun.