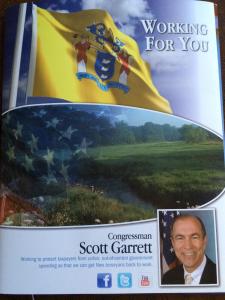 HACKENSACK – Roy Cho, the sole declared Democratic candidate in New Jersey's Fifth Congressional District, slammed a mailer recently sent out by incumbent U.S. Rep. Scott Garrett (R – 5) to constituents, calling the piece "campaign propaganda" and asking Garrett to reimburse taxpayers for its cost.
The mailer, a copy of which was obtained by PolitickerNJ.com, decries "Washington's unfair debt and out-of-control spending."
"Scott understands that in this time of economic crisis, every line-item in the federal budget needs to be examined to uncover waste, fraud, and abuse," the Garrett mailer reads.
Cho took particular umbrage with this statement, claiming Garrett himself was guilty of waste.
"As one of the most vocal and influential members of the radical Tea Party movement in all of Congress, Congressman Garrett was a non-stop presence throughout the media citing fiscal accountability to taxpayers as one of the driving forces behind the need for a shutdown of the federal government in October," said Cho to PolitickerNJ.com. "It is truly the height of hypocrisy for him to now send out campaign propaganda touting fiscal austerity using taxpayer money."
Garrett was the only member of the New Jersey congressional delegation who voted against reopening the government after the October shutdown. He was also initially against aid for Hurricane Sandy.
"Congressman Garrett characterized Hurricane Sandy disaster relief as 'wasteful spending'. We demand to know how he would characterize this piece of campaign literature and exactly how much taxpayer money was spent on it," Cho said. "Congressman Garrett must surely be glad the federal government is back open for business so someone can foot the bill on his campaign propaganda. However, I believe there is no doubt that he should dip into his substantial campaign war chest and reimburse the taxpayers of the 5th District."
Cho remains the only declared candidate to line up to take on Garrett, a six-term incumbent first elected in 2002 in a district where voters haven't elected a Democrat since 1931.The Fifth Congressional District includes most of Warren and Sussex counties, a few Passaic municipalities, and parts of Bergen County. According to the October 2013 Federal Election Commission report, Garrett has more than $2.6 million on hand for his re-election fight.
State Sen. Bob Gordon (D-38) told PolitickerNJ.com that he is "looking at" running against Garrett after fending off a strong GOP challenge backed by Gov. Chris Christie. But Gordon has expressed qualms about raising the campaign funds needed to effectively challenge Garrett.
According to campaign sources, Cho has raised $180,000 to challenge Garrett, and expects to have well over $200,000 by the end of the quarter following a series of fundraising events this month.
Garrett could not be immediately reached for comment.