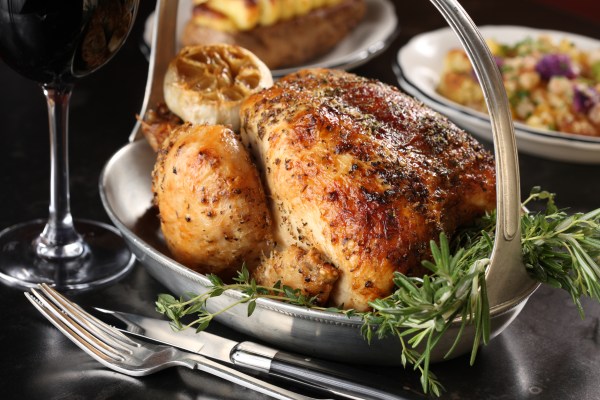 Chickens are simple birds—yard birds and cheap birds. Gallus gallus domesticus is the animal God created just before He took a nap. When a chicken dies, no one cries, and an immediate urge is often to fry it, plunging its body into a vat of hot oil. Another common act of mourning is to dismember the deceased bird, to tear its limbs asunder and to disseminate the constituent parts: to sports bars go the wings; to stock, the bones; and to shrink-wrapped freezer eternity, the breasts and thighs.
It takes a certain saintly soul to love a creature like this. And through the course of time, precisely because it lacked desirability, chicken became the protein of the dispossessed (or vice versa, but that's a chicken-and-egg problem). Any poor bastard with a yard could build a coop and raise dinner. Hell, with eggs, he had breakfast too.
But recently, chicken has been putting on airs. It began with the exulting of fried chicken at places too numerous to mention, in years too distant to recall. The trend, as so many do, came from Brooklyn, where fried chicken replaced bed bugs as the infestation au moment. Eventually, it swept across the bridges, in a tide of cuisine rustique, to kitchens as raffinée as Cafe Boulud, where this past summer Gavin Kaysen served a $52 chicken dinner, in a sort of fried coronation.
Slowly, though, the trend had already begun to collapse under its own heavy breading. Chicken shed its shag carpeting of fried crust. Pecking through the breadcrumbs, the chicken was reborn, roasted. The first famously fancy roast chicken of the modern age was a $79 bird for two served by Will Guidara and Daniel Humm at the Nomad last year. It was the Chuck Yeager of chicken. But even Mr. Humm hedged his bets, stuffing his chicken with enough black truffles and foie gras to engorge Caligula. You weren't so much paying for the chicken as you were for the stuffing. It was a Trojan chicken horse.
Now it's Rotisserie Georgette, the new restaurant by Georgette Farkas, that really tests the limits of a chicken's place in fine dining. There is no more primitive way to cook a bird—or anything really—than on a rotisserie, which is only a slightly modified version of what Cro-Magnon man used after clubbing a cave bear to death. Meat, fire, stick, dinner. Et voila. It's the delight of the primitive. But whether Ms. Farkas can build a business on the slouching shoulders of poultry has as much to do with whether chickens' time has truly come as with her considerable prowess at roasting them.
***
For the last 17 years or so, Ms. Farkas was chef Daniel Boulud's head of communication and marketing. The benevolent Jafar to Mr. Boulud's Sultan, Ms. Farkas was friendly but remote. On a recent wintry night, however, as a sharp wind sent pedestrians seeking shelter, Ms. Farkas stood by the door of her new outpost, welcoming customers with double-kisses. She smelled of nice perfume and rotisserie chicken. Outside, a banner bearing her name whipped restlessly in the wind. Inside, she seemed to glide as if on rails.
One is immediately drawn to the back of the long narrow room. There, through the pass of blue Portuguese tiles, behind the bulk of chef David Malbequi, one can see the chickens. Golden in hue, they turn and turn like a delicious abacus. Brazilians call rotisseries dog television, but even for man, it beats most of the nightly lineup. Pit a chicken against The Crazy Ones, and Robin Williams loses every time. These chickens, so recently extant, are reassembled ass to mouth with a spit struck through them, and they smell great. It's an unmistakable odor of Herbes de Provence, sizzling fat and crispy skin. Rotisserie chicken, dog television, human smell-o-vision.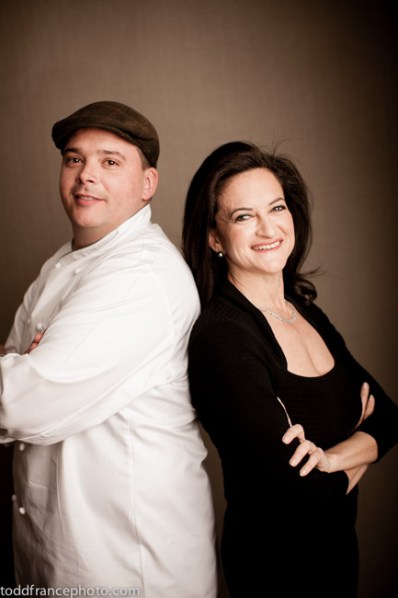 Ms. Farkas serves rotisserie chicken across the street from the Metropolitan Club. Her clientele is not dispossessed. In fact, they seem largely lifted from the Dinex orbit. Faces unnaturally smooth but chicken necked, hair unnaturally blond but well coiffed. At a few of the two-tops, sweet old folks bend toward each other like willows over their plates; at others sit the type of young folks who are just waiting to be old. It being a hot spot among Upper East Siders, there's also the standard stock characters of an UES fine dining room. I watched one man slowly bore his date into catatonia with a recitation of fine wines he had drunk. I watched a tween not take his eyes off "Angry Birds," even as he ate one.
***
It would be untrue to say there aren't many wonderful things that aren't chicken on the menu at Rotisserie Georgette. But for the moment, bird's the word. David Malbequi, a very talented Frenchman who worked as the banquet chef at Daniel, as head chef at BLT and then in a series of smaller ventures, which never seemed to be the right fit, is the chicken magic man. And he's got mad magic for making chicken, man. Mr. Malbequi trained with the best, including a stint as pastry chef with Michel Guerard, which taught him the importance of repetition and precision, two traits not often found in rotisseries, to their detriment.
There are two types of rotisserie chicken to be had at Rotisserie Georgette: a relatively simple Poulet Roti ($24) and a more involved Poule De Luxe for two ($72). The Poule De Luxe is not dissimilar from the Nomad roast chicken, at least in terms of its ingredients. It's a Label Rouge bird from Ashley Farms in North Carolina. (Label Rouge is a sort of chicken-y A.O.C., the standards of which, adhered to by some farmers in the States, require that the bird reach market later than normal and is raised with liberté, egalité and fraternité.) When the Luxe chicken arrives, it's already cut up in a cast iron skillet and accompanied by a slab of seared foie gras on a pile of wild mushroom stuffing. It's the bottle service of poultry. You expect nearly naked hostesses with sparklers trailing the sizzling plate. It deserves an entourage.
The tension, I understand, in roasting a chicken is between crisp skin and moist meat. Here, that balance is elegantly achieved, with the help of the moisture-endowing wild mushroom stuffing. Label Rouge chickens tend to taste chickenier than normal birds, since in life these chickens were actually allowed to be chickens. Here, that is true as well, but because the dish has such rich accoutrements, the chicken remains a player in an ensemble cast. It's a solo show for the Poulet Roti.
The Poulet Roti, which is half a chicken and serves one, is audaciously straightforward. It's a triumph for those who dare to be simple. The bird is dry-brined overnight and chilled. Mr. Malbequi turned to former Daniel sous chef Lior Lev Sercarz, who runs La Boîte, a spice racket, to create a custom blend, which includes the typical Herbes de Provence—rosemary, thyme, lavender, fennel—with the addition of coriander. This he applies to the chicken, and then straight from the fridge they go to the spit—a move that, he says, is key to reaching the necessary detente between moist and crisp.
Whatever black magic Mr. Malbequi does back there, the voodoo works. The chickens, as they issue forth to almost every table—the Culotte d'Agneau ($32) and the NY Strip Steak ($43) are masterful too, it should be noted—leave a vapor trail of longing. Ever seen Upper East Siders pant like dogs? Well, here's your chance. And if you never found it in your heart to love a chicken, here's your chance to do that too, because here is the chicken, unadorned, in its highest form. It might not be a rara avis, but it is a tremendous one.
RATING: ****