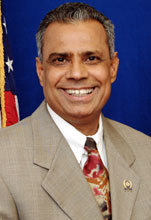 TRENTON – A proposal to return New Jersey to the Regional Greenhouse Gas Initiative advanced last week in a Senate committee.
The same proposal is making its way through the Assembly as well.
Assembly members Upendra Chivukula, (D-17), Somerset and John McKeon, (D-27), Madison, are pushing a proposed constitutional amendment that would allow voters the choice to require the state's participation in the Northeastern states' collective effort at furthering solar energy and reducing carbon emissions.
Gov. Chris Christie yanked the state from RGGI in 2011.
The original law authorized, but did not mandate, New Jersey's participation. Christie, preferring market forces over subsidized approaches, removed New Jersey from RGGI and has blocked subsequent bills that would have returned New Jersey to the cooperative.
That has spurred Democrats to turn to constitutional amendments, a move that proved successful this year with giving voters the choice to increase the minimum wage.
"Rather than go up against a brick wall, we prefer to find a way around it," Chivukula said. "It's a risk. It's A gamble."
He believes that if voters were given the choice, they would approve rejoining RGGI, but he acknowledges the challenge of convincing them.
"The problem is people have a short attention span and this is a complicated issue."
McKeon, however, is more optimistic about a constitutional amendment's chance of passage.
"I think it will be easy; it won't even be close," he said. "It'll be fun to watch the Koch-backed multiple millions (of dollars) that will come in to persuade New Jersey voters. The climate deniers won't carry the day."
But in order for a constitutional amendment to reach the voters next year a three-fifths majority in the Legislature is needed; otherwise, simple majorities in two successive sessions are needed.
But both men, two of the lower chamber's staunchest environmental forces, believe too much time has been lost since the state exited RGGI.
Chivukula said that approximately $128 million has been taken from alternative energy to balance the budget, and the Energy Master Plan target of 1,500 megawatts of combined heat and power has been greatly slowed to the point where the state only has about 40 megawatts.
McKeon thought for a moment there would be a chance in the wake of Superstorm Sandy that the administration would have a change of heart.
"There's just no semblance of hope that post-Sandy there would be an epiphany on the part of the governor,'' he said. "We will continue to work around him as long as we have to.''