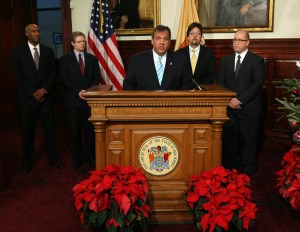 TRENTON – Gov. Chris Christie's chief counsel is moving to the state's Schools Development Authority.
The governor announced Charles McKenna will serve as the executive director of the authority and will be replaced as chief counsel by Christopher Porrino, who currently serves as the director of the Office of the Attorney General's Division of Law.
"I know how difficult this job [was] and I appreciate how Charlie has been there for me every step of the way for the past two years," Christie said.
Christie also announced state Comptroller Matt Boxer has decided not to seek another term as comptroller when his term ends next month.
"He has done outstanding work as the comptroller," Christie said.
"I understand that it's time for Matt to go forward," he said. "He has made me extraordinarily proud."
Boxer is being replaced by Marc Larkins, who currently serves as the head of the Schools Development Authority.
Boxer said he is returning to the private sector.
"I am so grateful for the opportunity to have served the people of this state," Boxer said.