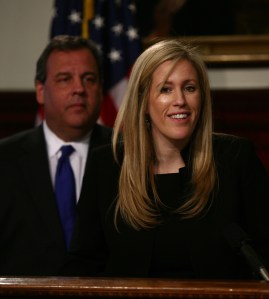 TRENTON – Gov. Chris Christie thanked Port Authority Deputy Executive Director Bill Baroni for his four years of service Friday, and sought to make it clear that his departure was part of an already planned adjustment in his administration.
He called Baroni's replacement, Deborah Gramiccioni, "One of my most trusted friends and advisers,'' someone he has known for 12 years and who was instrumental in cleaning up other troubled authorities such as the Passaic Valley Sewer Commission.
"My instructions to her were to use her best judgment, to put integrity first, and make the tough decisions that need to be made,'' Christie said today after accepting Baroni's resignation.
Baroni and his N.J. underling, David Wildstein, are out at the bi-state agency over their involvement with a colossal traffic mess that occurred in September in Fort Lee when Wildstein made the decision to close lanes at the George Washington Bridge without alerting local officials in advance.
Wildstein, a former PolitickerNJ editor, no longer draws his $150,000 paycheck at the Authority, Christie said today.
Although Baroni, a former N.J. senator, apologized to N.J. lawmakers on Nov. 25 about how the lane closures were handled, he defended the necessity of a traffic study because 95 percent of the bridge users are inconvenienced because host town Fort Lee has three lanes dedicated to it.
However, on Monday, Port Authority Executive Director Patrick Foye, a N.Y. appointee, told N.J. legislators that there was no study.
Then on Thursday, the Assembly Transportation Committee Chairman John Wisniewski issued subpoenas for documents from Baroni and six other Authority officials.
Wisniewski issued a statement Friday after Baroni's departure.
"I'm glad to see Mr. Baroni agree with my suggestion that he resign.
"Mr. Baroni's resignation was overdue and a good thing for New Jersey. His inability to be clear, professional and honest meant he was no longer going to be effective in his role, if he ever was effective.
"But make no mistake – our investigation into what happened with these lane closings will continue.
"We still don't have an explanation as to what happened here.
"The resignations of Mr. Baroni and Mr. Wildstein – while welcome – do not put an end to the many outstanding questions. I expect the seven subpoenas I issued yesterday to be followed, and we will go from there once we review those documents."
The subpoenaed documents are due by Thursday.
But Christie maintained today that although what Baroni and Wildstein did was wrong, Democrats locally and nationally are using the lane closures to make political points.
Christie again said he had absolutely no involvement in the decision to close the lanes, which some published reports suggested was linked to political payback against the Fort Lee mayor for not endorsing Christie's re-election.
For Baroni, this was a fall from grace. Although Christie said he still considers Baroni a friend, this was a man who had served in the state Senate and then was appointed in 2010 by Christie as the top N.J. representative at the Authority that manages more than 7,000 workers, handles a $6 billion-plus budget and operates the world's busiest bridge as well as other tunnels and transit systems.
For Gramiccioni, this represents a step into a more public position, and she thanked Christie for "his continued faith'' in her. "I'm ready to get to work,'' she said.
Christie said he had spoken with her at some point after the election about making the change. He referred to her as "one of my must trusted friends and advisers.''
Christie said he has known Baroni for 20 years and came to his defense, saying he believes Baroni's explanation of events. "I don't see Bill Baroni as a guy who does not tell the truth," Christie said.