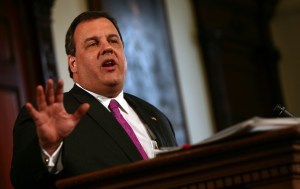 TRENTON – Gov. Chris Christie on Friday denied ever speaking to New York Gov. Andrew Cuomo about the George Washington Bridge lane closure controversy.
Christie referred to a published report about him complaining to Cuomo over his appointee to the Port Authority of New York and New Jersey's handling of the controversy as "categorically wrong."
"I did not have that conversation with Gov. Cuomo and Gov. Cuomo did not have it with me," Christie said during a morning news conference at the Statehouse announcing he accepted the resignation of his top appointee to the authority.
The governor was asked about a report in the Wall Street Journal this week that suggested Christie complained to Cuomo over the phone about the Port Authority's executive director, Patrick Foye, "pressing too hard to get to the bottom" of the controversy.
Christie flat out denied any conversation took place, adding he called Cuomo after the report was published to discuss the issue.
"When the story came out yesterday I called him and said, 'Did we talk about this?'" Christie explained, saying neither him nor the Democratic New York executive could recall every speaking about the subject.