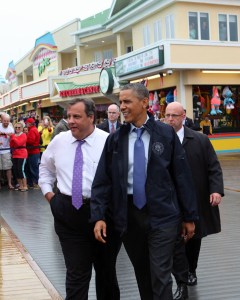 TRENTON – Diagnosis: We told you so.
Gov. Chris Christie made it clear today that critics' worst nightmares about the Affordable Care Act are coming true.
During his first Statehouse press conference since his re-election, Christie defended the decision made last week to leave it up to individual insurers whether or not to honor policies for hundreds of thousands of New Jerseyans that would be out of compliance with the program critics deride as "Obamacrare.''
Christie slammed President Obama Monday for not being truthful with Americans about being able to keep their own policies.
"What the president should do is belly up to the bar and tell the truth,'' Christie said. "I don't know whether the president didn't know everyone couldn't keep the insurance they had. Tell the American people the truth.''
Christie indicated his administration knew in 2010 that people were going to have their policies ripped from their hands by "Obamacare.''
"We knew it back in 2010, the president continued to say otherwise,'' Christie said.
"The American people are a fairly forgiving lot," Christie said. "If you got it wrong you got it wrong, but they don't like it if you're dodging it."
Sen. Nia Gill has slated a hearing Thursday into the problem of some 800,000 residents who are losing policies next year.
Christie compared the decision on allowing insurers to make the call to the decision last year not to have a state-run health care exchange, but to leave it up to the federal government.
"The administration would not tell us how much control we could have over the exchange,'' Christie said. Absent solid information about how much it would cost, the state decided to let the federal government run it, he said.