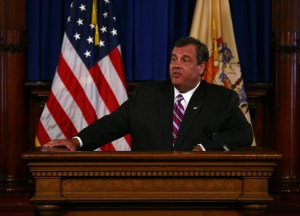 TRENTON – There's "no doubt" in Gov. Chris Christie's mind that the controversy over lane closures on the George Washington Bridge is being used by New Jersey Democrats as partisan game.
"Inside the Statehouse there's no doubt that there is," responded Christie Thursday afternoon after a reporter asked whether the governor thought there are political games at play in the brouhaha over the so-called "Bridgegate" debacle that forced two top officials at the Port Authority of New York and New Jersey to resign.
The governor went on to say he "would not impugn the motives" of the authority's own investigation into the matter or the reason behind U.S. Sen. Jay Rockefeller's inquiry, but said he had little doubt about the intentions of New Jersey lawmakers.
"Certainly inside the Statehouse," he said.
Christie took questions from reporters on the issue nearly a week after he spent about an hour fielding questions over the Bridgegate controversy.
As far as he's concerned, little has changed since then and the local and national stories that have followed are simply a product of his national profile.
"I know you guys are obsessed with this. I'm not," Christie said during a news conference on personnel changes within his administration.
"I'm really not. It's not that big of a deal," he said. "Just because (the press) runs around and writes about it both here and nationally, I know why that is and so do you, let's not pretend that it's because of the gravity of the issue. It's because I am a national figure and anything like this will be written a lot about now."
However, national Democrats again criticized the governor for using "swagger and condescension" when addressing the issue.
"It's been over 100 days since the lanes were closed onto the busiest bridge in the world, and instead of answering basic questions about why the lanes were blocked, Chris Christie still thinks 'it's not that big a deal," said Ian Sams, a spokesman with the Democratic National Committee.
"Because of the Christie administration's actions, some commutes took four hours instead of 30 minutes; children were unable to get to the first day of school on time; and emergency responders were diverted," he said. "That may be business as usual for Chris Christie, but for commuters and residents of Fort Lee, the lane closures were – and are – a very big deal."
Christie urged everyone in the room "not to pretend that this is some grave thing" and repeated statements he made last week that dismissed the so-called severity of the issue.
While speaking about the lane closures, the governor criticized reporters for making an issue about the two former executives who have resigned – former state Sen. Bill Baroni and David Wildstein – and for retaining criminal defense lawyers to represent them, saying the men hired attorneys since being handed subpoenas and such should be expected.
"I don't even think that the most partisan folks here have charged that anything that Sen. Baroni and Mr. Wildstein has done was criminal," he said. "I think that's an unfair characterization."
The governor charged reporters with "deciding to be sensational about it" before suggesting the newspaper that first reported the pair hired attorneys, The Wall Street Journal, will "owe an apology to Sen. Baroni and Mr. Wildstein."
The governor was calm when he took questions about the controversy and sought to drive the point home that much was being made about nothing when he was asked whether he has done any investigating himself into why the lanes were closed.
"I know you all think that this is some issue of great, great moment. I don't," he said. "They've taken responsibility publically, both of them, for the mistakes that were made [and] as far as I'm concerned, that's it. You guys all want to keep chasing it around? Chase it around."
Before ending, Christie reminded reporters that while "you all have been chasing around about this," he's been working with lawmakers on hashing out a compromise on a state DREAM Act proposal and putting policies in effect that helped lower unemployment, he said.
"Those things are much more important to the people of New Jersey than a couple of cones and a couple of lanes for four days, I've got to tell you," said Christie before asking if there were any additional questions.
"That was a pretty good answer to end on probably," he said to some laughs, adding "I appreciate you giving the chance to end with dramatic flair."