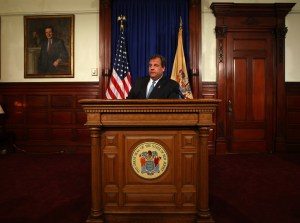 TRENTON – Gov. Chris Christie was disappointed Republicans failed to make gains in the state Senate in the elections, but fell short of placing any of the blame on Senate Minority Leader Tom Kean Jr.
The governor played down his involvement with a recent GOP leadership dispute in the Senate, telling reporters he was "not very" involved with the attempted shake up. Despite Republican lawmakers filing in and out of his office the day GOP senators narrowly voted to retain their current Senate minority leader, Christie said he only offered his advice to people on the issue who sought his opinion.
"When people asked my opinion I gave it to them and that was the extent of my involvement," Christie said. "The fact is that both Tom Kean Jr. and Kevin O'Toole are both good friends of mine and important members of the state Senate. I would be willing to work with either of them as leaders of the Senate minority and I've already been working with Sen. Kean since his re-election by his caucus and I'll continue to work with him as long as he remains the minority leader."
Following the recent statewide elections, a group of Republican senators led by O'Toole attempted to oust Kean of his leadership position. The lawmakers cited Kean's failed campaign strategy and his inability to make additional GOP gains in the upper chamber as reasons for his need to be replaced with a new minority leader.
Numerous reports around the time of the power shake-up indicated the governor's team didn't approve of Kean's strategy leading up to the November election.
Discontent circled among Republicans who thought Kean should have followed Christie's strategy by investing in campaigns that were winnable, rather than casting a large net and putting resources in a half dozen campaigns. (Kean later defended his decision while speaking at a legislative leadership panel in Atlantic City.)
When asked if he was disappointed with the lack of gains in the Senate, Christie responded:
"Sure, we picked up zero. How could I be excited about that? I mean, you know, we kept all the seats we had and we didn't win any. Who could be excited about that? The fact is I executed on the philosophy and strategy that I thought would help us win the Legislature and I invested my time and money in the places I thought we had the best chances to win and the election results bear that out."
Christie went on to point out Republicans lost by 4,500 votes in the three districts his campaign put resources toward during the campaign (LDs 14, 18 and 38).
"In the three contested districts down south we lost by, I think, a combined nearly 30,000," he said. "So I executed the philosophy I thought was best. I think the election results show that that philosophy was the best and we move on from there."
Christie placed much of the blame on the legislative map.
"The fact is that anyone that looks at this map will tell you that it is an incredibly daunting task for Republicans to win anything," he said. "I was disappointed, but that's the way it goes."