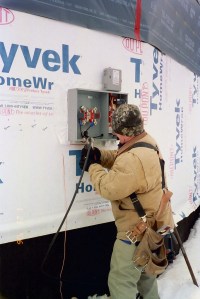 Today, the Manhattan D.A.'s office indicted Donald Russo and Bar Electrical Consulting, Inc. for their alleged role in a construction bribery scheme. The indictments follow a three-year investigation into bribery and fraud in the electrical contracting industry that has resulted in charges being brought against more than 15 companies and 17 individuals, some of whom have already pleaded guilty.
Mr. Russo allegedly engaged in a bribery scheme that steered millions of dollars of business from Unity Electrical Company, of which he was the purchasing agent, to electrical supply companies. He created Bar Electrical as a shell company to accept the bribes, according to the D.A.'s office. Mr. Russo and Bar Electrical have been charged with grand larceny in the second degree, falsifying business records in the first degree, offering a false instrument for filing in the first degree, criminal tax fraud in the fourth degree and commercial bribe receiving in the second degree.
Alan Brite, the president of Benfield Datacom and affiliated companies Benfield Controls and Benfield Electrical Supply, was also charged with paying bribes to companies including Unity, to which he allegedly increased a bid in order to pay Mr. Russo a kickback.
"Bribery and fraud in the construction industry remain a concern," said District Attorney Cyrus Vance in a statement. "This long-term investigation exposed nearly two dozen industry professionals alleged to have engaged in illegal activity for the purpose of self-enrichment. As a result of kickback schemes like this one, New Yorkers are footing an inflated bill for public construction throughout the five boroughs—in places as varied as the JP Morgan Chase Tower, The New York Police Academy, New York City Center, and JFK Airport."
The D.A.'s office expects to recover approximately $14 million as a result of the larger investigation, with $500,000 going to restitution, $150,000 of which will go to the International Brotherhood of Electrical Workers Local 3 employee benefit fund (to which one company underreported its payroll) and $1 million of which will go to New York State Department of Taxation and Finance.
Last week, as part of the same investigation that netted Mr. Russo and Mr. Brite, IG Federal Electrical Supply Corporation admitted to commercial bribery, theft and fraud for paying bribes to purchasing agents of electrical contracting companies and receiving kickbacks from purchasing agents, as well as fraudulently filing paperwork claiming to be a woman-owned business. Its vice president of operations, Ira Freidman, and vice president of purchasing, Todd Ehren, both pleaded guilty to falsifying business records.
Mr. Friedman and Mr. Ehren misclassified more than $1 million of their salaries as expenses, according to the D.A.'s office. Mr. Friedman is expected to be sentenced on January 23 to six months in jail, to forfeit $650,000 and to pay approximately $260,000 of back taxes. Mr. Ehren is expected to be sentenced to four months in jail, to forfeit $650,000 and to pay approximately $255,000 of back taxes on March 5.
"We have identified an industry-wide corrupt practice involving the payment of bribes and kickbacks that ultimately results in increased costs to the public and negatively impacts the quality of materials and the integrity of the work performed," said Robert E. Van Etten, the inspector general of the Port Authority of NY & NJ, which assisted in the investigation. "The Port Authority Office of Inspector General and its law enforcement partners will aggressively identify, investigate, and bring to justice those who corrupt the integrity of the construction industry."