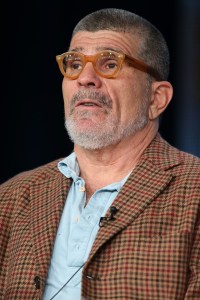 David Mamet, America's favorite fucking playwright, is coming to the small fucking screen. It's going to be…it's going to be…no, let me finish…it's going to be a seven-part mini-series about the seven deadly sins in the Bible, and it's going to be totally fucked, is what it's going to be.

From Variety:
Stephen McPherson is shepherding the project with Mamet (pictured)through McPherson's production pact with Lionsgate TV.

The famed playwright and screenwriter plans to write and direct the first episode, and write at least two more segs.

The themes invoked by the seven deadly sins will serve as a backdrop of a series of interconnected stories the reflect on the human condition through Mamet's distinctive lens. And there's plenty of material to work with from the list of Christianity's Big 7 no-nos: wrath,  greed, sloth, pride, lust, envy and gluttony.

The "7 Deadly Sins" project is in the early development stage as part of Fox's push to offer more limited-run series and longform projects throughout the calendar year. Mamet and McPherson are exec producing.
Oddly, the fucking headline isn't "David Mamet to rewrite Seven for the small fucking screen." Though technically, that would also have been fucking correct.