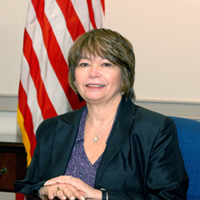 Mayor-elect Bill de Blasio announced his latest appointment this morning, naming long-time children's advocate Gladys Carrión to head the city's Administration for Children's Services.
Ms. Carrión, who has served as the commissioner of the New York State Office of Children and Family Services for the past seven years, will be tasked with overseeing the protection of the city's most vulnerable children, from protective services to foster care placements."There is no higher calling than protecting children," said Mr. de Blasio, speaking to reporters at the Henry Street Settlement on the Lower East Side. "She's devoted her whole life to our children."
The hire marks the latest de Blasio pick with extensive experience in previous city administrations. The pair first met 20 years ago when Ms. Carrión was serving as commissioner of the city's Community Development Agency in the Dinkins administration, where Mr. de Blasio got his start.
In making the announcement, Mr. de Blasio, who served as chair of the General Welfare Committee when he was a city councilman, offered rare praise for the Bloomberg administration and current Commissioner Ronald Richter. He commended the progress the city has made since the 2006 beating death of 7-year-old Nixzmary Brown, as well as initiatives like the Close to Home program, which aims to keep incarcerated youth in their communities instead of shipping them off to prisons upstate.
"I think it's broadly been in the right direction, but I think you have to go farther—that's the bottom line," said Mr. de Blasio, when asked to assess the agency's direction.
"If you said, 'Has there been real progress over the last 12 years?' Absolutely. Absolutely. But there's a lot more to do." he added.
Mr. de Blasio also left the door open to upping the agency's budget so it can hire additional case workers, who have long complained about their case loads.
"I won't get ahead of our budget announcement, which is still a few weeks away. I will say I have a special feeling for this agency, and I have to be convinced that it can do its work with the resources it has," he sad. "And I have to be convinced that we're devoting enough resources to preventative services."
For her part, Ms. Carrión, who was born and raised in the Bronx, said she was pleased to have a boss who has a deep understanding of the agency's mission.
"I couldn't be more proud to be part of this team," she said. "I've had the privileged of working with tremendous leaders before, but this will be the first time that I will work for one that deeply understands the core of the work and has been in the trenches fighting for it."
Updated at 4:45 p.m. with reporting from the press conference.