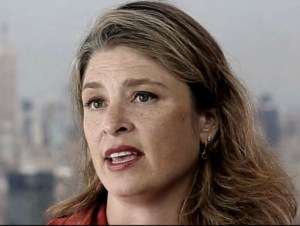 Mayor-elect Bill de Blasio has made another major hire, appointing Goldman Sachs's Alicia Glen as his deputy mayor for housing and economic development.
Ms. Glen has spent the past 12 years heading the Urban Investment Group at Goldman Sachs, which has committed tens of millions of dollars to funding projects in low-income neighborhoods across the city. She is also widely credited with helping to negotiate the deal that brought the Citi Bike bike share program to New York.
In her new role, Ms. Glen will be tasked with leading "the administration's efforts to invest in emerging industries across the five boroughs, retarget unsuccessful corporate subsidies, build a new generation of affordable housing and help New Yorkers secure good-paying jobs that can support a family," as well as to turn around the New York City Housing Authority, according to a press release.
Mr. de Blasio also announced that Laura Santucci, the executive director of his transition team, will serve as his chief of staff. Ms. Santucci previously worked in the Obama White House and served as acting executive director of the Democratic National Committee.
"The days of spending taxpayer dollars to fuel poverty-wage jobs are over. We're going to demand living-wage jobs in exchange for public investment. We need to invest in key emerging industries and affordable housing so New Yorkers have a better shot at working their way into the middle class," Mr. de Blasio said in a statement announcing the hire. "Alicia has the record, fresh ideas and bold outlook to make that vision a reality."
Ms. Glen, who formerly served as assistant commissioner for housing finance at the Department of Housing Preservation and Development, echoed Mr. de Blasio's statement and stressed—just like previous hires—that she and Mr. de Blasio shared the same vision.
"We can't remain the greatest city in the world when half of New Yorkers are living in or near poverty," she said in a statement. "We can do so much more to lift people up by investing in our neighborhoods, especially in the outer boroughs. Mayor-elect de Blasio and I share the same vision. We believe in tough bargains that get the most out of every dollar we invest. And we believe that, with the right policies, we can raise the floor on workers' wages, develop and preserve more affordable housing and give families a shot to make it here."
The picks mark the latest hires for Mr. de Blasio, who is set to take office Jan. 1. Despite ramping up hiring in recent days, he has yet to fill a host of important positions, including schools chancellor, fire commissioner and sanitation chief.
In an interview with Crain's New York Business earlier this year, Ms. Glen said that one of the impacts of her group's work was making big banks seem a little less evil.
"Smart, progressive banks do not need to be an oxymoron," she told the paper. "We're not all evil squids. We're nice little calamari."
Her appointment earned early praise across the Twittersphere and from Kathryn Wylde, the president of the pro-business Partnership for New York City, who sent out a release praising the pick—before it was even announced by the de Blasio team.
"Alicia is widely regarded as an outstanding 'community banker' with particular expertise in affordable housing and social investment," Ms. Wylde said in a statement. "Her appointment is a clear signal that the de Blasio administration will be aggressive in pushing expanded housing and neighborhood development."
Incoming Comptroller Scott Stringer echoed the praise, saying the appointment "sends a strong signal that our city means business when it comes to ensuring that economic growth benefits all New Yorkers."
"During a stellar career in the public and private sectors, Ms. Glen has been a leader in financing and rehabilitating thousands of moderate and low-income housing units in our city, as well as an advocate for small businesses and a catalyst for more than $5 billion worth of public-private partnerships. She brings a remarkable combination of skill, insight and integrity to the table, and it has been my great privilege to work with her over the years. I look forward to our partnership continuing in the future," he said. 
Updated at 12:50 p.m. with statements from Mr. de Blasio and Ms. Glen. With reporting by Ross Barkan.