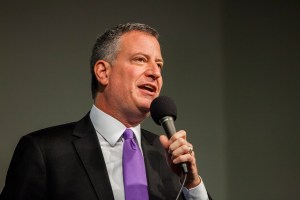 Mayor-elect Bill de Blasio today insisted he twisted no arms and made no promises to get council members to back his preferred candidate, Melissa Mark-Viverito, for City Council speaker.
"No promises were made. I can tell you that very, very clearly," he told reporters at a press conference in Brooklyn, where he launched a campaign to build support for his signature plan to hike taxes on the wealthy to fund universal pre-k.
Yesterday, Ms. Mark-Viverito announced she had the votes to become speaker after Brooklyn Democratic Party Chair Frank Seddio broke with his fellow county chairs, joining with the Progressive bloc in a deal sources said was brokered by Mr. de Blasio. (Her chief rival, Dan Garodnick, has yet to concede.)
But the mayor-elect today downplayed his role, insisting that all he'd done was share his views with certain council members.
"I hope my observations are persuasive," he said with a laugh. "I simply let people know what I thought was going on. And again–I've said many times–they're going to make their own judgments. But I think what you saw last night was a pretty extraordinary consensus from a very wide range of council members and each of them saying in different ways what they felt," he continued, heaping praise on Ms. Mark-Viverito, one of his earliest backers.
"I think that speaks to what his council, this incoming council feels, what they believe, what they want, and obviously their view of Melissa. I've said many times I have a lot of respect for Melissa, a great working relationship with her," he added. "But again, this group of council members in particular–I know them very, very well–they're gonna make their own decision and they'll judge whatever I have to say as one of a number of factors."
The members will formally cast their ballots in the new year.