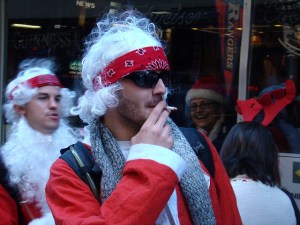 There have been a lot of things to argue about in 2013: Should we raise the debt ceiling? Should our government shut down? How should we reopen the government? Is Miley Cyrus the worst? Is Edward Snowden the worst? Is the NSA worse or better than Miley Cyrus and/or Edward Snowden? And so on and so forth.
But nothing has really captured New York's imaginative ire as much as the debate over SantaCon, the nondenominational, noncommercial invasion of vomiting assholes in Saint Nick costumes.

Last year, 35,000 Santas mobbed midtown bars for charity, causing destruction in their wake. In preparation for this weekend's catastrophe, even Police Commissioner Ray Kelly was forced to comment, after allegations that the NYPD was sending out "warning" letters banning Santas from trolling Hell's Kitchen. LES is up in arms. Brooklyn is…well, Brooklyn is actually still try to capitalize on the whole thing, honestly. But that's only because in Williamsburg people only dress up as Santa and get drunk ironically. (Seriously, two years ago SantaCon ended in a giant rave near Kent St. where some sweaty overweight Santa was handing out free Ecstasy. It was like a holidays-themed episode of Girls.)
For some reason, SantaCon cannot be discussed in any rational way. Everytime it is written about, people flock to the comment sections of said article to name-call, point fingers, and use insane logic to argue their points. Persecution of SantaCon = Persecution of gays? Defending our constitutional right for public intoxication en masse? Just another sign of the war on Christmas? The people who claim that not all of the Santas in SantaCon get drunk and rowdy seem to misunderstand what the natural effect of an all-day pub-crawl is on a human body, but fine! They are entitled to their opinion. As are we all!
It's is the political lightning rod of the season, with politicians and columnists and founding members of SantaCon giving their two cents. And that's a good thing! Hell, if we're going to argue about something this Christmas, we'd rather have it be about something as innocuous as jolly drunk nuisances than something that might actually be of some importance. Let's feel this strongly about the small stuff, people! At least it shows we still feel anything at all. At least it's better than using up all our outrage over Obama selfies.
And what are the holidays about, if not coming together, sitting around a table, and "winning" conversations by yelling our opinions the loudest? It's a staple of the season, it's a staple of New York, and damn if SantaCon and all the controversy it's drummed up isn't the staple of what makes this country great.
God bless us, everyone.