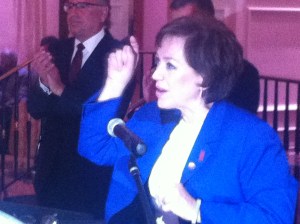 CARLSTADT – In this Bergen borough on the edge of the Meadowlands, Bergen County Executive Kathleen Donovan announced her re-election bid on Tuesday, with the Republican hoping to emerge from the swamp of county politics triumphant in the November 2014 election.
Speaking before a crowd of approximately 300 supporters at Il Villaggio in Carlstadt, Donovan set the tone for an anticipated hard fight against a yet-to-be-named Democratic challenger.
"Despite what you may have heard, and much to my enemies' unhappiness, I'm running for re-election as Bergen County Executive," Donovan said. "We inherited a government run by political bosses that knew no limits on wasteful spending. We stopped that. We made changes – and we angered some people who liked things the way they were.
"Tonight is just one small step in an eleven-month journey that we will take together, my friends. There will be good times and there will be rough times," Donovan added. "We are fighting against people who want to take control of Bergen County government simply to fulfill a political agenda. They will fight hard and dirty, but we're ready for them."
Many political observers wonder if Donovan is ready for the challenges she faces from within the Bergen Republican Party, never mind the Democrats.
Numerous GOP luminaries were present at this initial campaign fundraising event, including Freeholder Maura DeNicola (R), Assemblywoman Holly Schepisi (R -39), and Assemblyman-elect Robert Auth (R- 39). But perhaps the most notable Republican present was state Sen. Gerald Cardinale (R – 39). Cardinale is aligned with Bergen Republican Chairman Bob Yudin, who has long been in opposition to Donovan over the direction of the Bergen Republicans. Yudin was not present at the Donovan event because he was celebrating Hannukah with his family at a local synagogue.
When asked if the Bergen GOP can mend fences in the face of a significant Democratic challenge, Cardinale seemed cautiously optimistic.
"We're certainly going to try," Cardinale said. "And it's certainly worth doing."
In an interview with PolitickerNJ.com as the event was winding down, Donovan addressed several tests that lie ahead for her campaign. The fact that U.S. Sen. Cory Booker, who was raised in Bergen and is arguably the most popular Democrat in the state, will be at the top of the Democratic ticket in 2014 didn't faze Donovan.
"When President Obama ran the first time in 2008, he won Bergen County by 40,000 votes. I won [re-election for County Clerk] by 10,000 votes," Donovan said. "I've withstood votes on the other side for a long time."
Donovan indicated that she would also be able to withstand any internecine struggles within the Bergen GOP.
"I think it's going to be fine," Donovan said. "I don't take this personally. Some people in my party agree with me, some don't. Senator Cardinale is very gracious by supporting me tonight, and Bob, of course, is celebrating Hannukah, so I don't expect him to be here tonight.
"Bergen County is bigger than six states in population. If we were a city, we'd be the eleventh largest city in America. There is no way that you're ever going to walk in lock step. And when the Democrats walked in lock step, they had corruption, and people went to jail," Donovan added, referring to former Bergen County Democratic Chairman Joseph Ferriero, who was convicted on corruption charges in 2009 and indicted in a racketeering scheme in September. Ferriero's legal problems partially spurred votes to elect Donovan over Democrat incumbent Dennis McNerney in the 2010 county executive's race.
The public problems of Alan Marcus, the consultant who managed Donovan's victorious campaign in 2010, have made some observers wonder if Marcus's issues could damage Donovan's re-election effort.
One issue has drawn the attention of federal prosecutors who have subpoenaed records relating to a public-relations contract that Bergen Community College officials proposed to Marcus' firm. After criticism of the deal emerged, Marcus turned down the contract.
Another controversy focuses on an accusation by a Paramus insurance broker who claims Marcus influenced county officials to switch medical-insurance carriers to exact retribution when the broker's wife ended a three-month affair with him.
Donovan, however, maintained that she has distanced herself from Marcus.
"Everything that I've ever done is out there in the public spotlight, and I don't run away from anything. [The Marcus controversies] have nothing to do with me, absolutely nothing at all," Donovan said. "I have nothing to do with it. I'm not a part of that."
Finally, Donovan spoke out about her ongoing struggle with the freeholder board over plans to merge the Bergen County Police Department and the county's Sheriff"s Office. Donovan is opposed to the plan, while the majority of the freeholder board, controlled by the Democrats, supports the move. During her battles with the freeholder board, Donovan has used her veto power more than 25 times since taking office in January 2011.
While Donovan did not back down regarding her stand on the issue, she expressed her belief that it is far from the only concern in Bergen voters' minds.
"The merger of the county police is not the top issue for most people. It's taxes, taxes, taxes," Donovan said. "I could cut people's property taxes by one third if I could get mayors and councils to consolidate services with surrounding towns. And I'll keep saying that message."