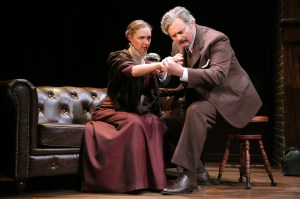 "Mr. Watson—come here—I want to see you."
They're some of the most famous words of the late 19th century, the first phrases Alexander Graham Bell spoke to his lab assistant, Thomas A. Watson, via his new telephone and some 20 feet of cable. Watson himself, however, interviewed for a Bell Labs film 55 years later, remembered them a bit differently. In Watson's version, Bell's words ended with "I want you," a distinction—as the former assistant argues in The (Curious Case of the) Watson Intelligence, which opened Monday night at Playwrights Horizons—that indicates a world of difference. The standard version, from Bell's lab notebook, is the command of a boss to his assistant; Watson's version, he says in the play, is the request of a colleague to a friend.
That bifurcation, between instrument and helpmeet, is at the core of Madeleine George's intriguing but not entirely compelling new play, which examines the relationship between people and their technology by focusing on several historical amanuenses—all, coincidentally, named Watson (curious!)—and adding one of her own creation. Ms. George's point is about the importance of human connection and the inability of technology to replace it, even in an increasingly tech-addled age. Unfortunately, her play, intricately structured, smartly written and sharply directed by Leigh Silverman, suffers from precisely that lack of emotional connection among its characters or between them and the audience.
The play opens on Eliza (Amanda Quaid), a pretty, put-together modern woman, in her converted loft of a home office, talking to a calm, placid-voiced man (John Ellison Conlee, remarkably Ron Swanson-like in this part of the role) it soon becomes clear is the physical manifestation of a natural-language supercomputer, much like the IBM Watson system that beat Ken Jennings on Jeopardy! Eliza, we'll eventually learn, was part of the Watson team but left IBM; she's now at work on a personal, portable version of that technology. This is our first Watson, the perfect, intelligent, intuitive aide-de-camp.
The next scene brings us to Eliza's ex-husband, Frank (David Costabile), angry and an aspiring politician. He's a libertarian type, running for a government post in order to minimize government. He quotes Ayn Rand, and he's the fool of this play—another point in favor of communitarianism. He has called in tech support to his office, and the "Dweeb Team" staffer who arrives is our next Watson: Josh Watson (also Mr. Conlee), a shambling nebbish who thrives on solving users' tech problems. Soon enough, for reasons not worth getting into, he ends up as Eliza's perfect boyfriend, sweet and caring and so connected to her he can anticipate her wants and needs. She's a little bit convinced he's her computer system come to life.
The two other Watsons are Bell's assistant, whom we encounter as a bit of a stuffed-shirt, preparing to give and then giving that Bell Labs interview, determined to present himself as a necessary part of his genius friend's invention and not merely a telephonic gofer, and, finally, Sherlock Holmes' admiring roommate, Dr. John Watson, who in Ms. George's play goes on a small, unsuccessful sleuthing expedition of his own. In this final pairing, though, the roles are somewhat reversed: While Holmes is the boss, he's also the one who's the computer, a machine for discerning information, as Conan Doyle not infrequently described him. It gives Ms. George more opportunities to talk about the melding of man and machine.
Much of the fun of the play comes from the way the scenes and times intercut and interact, with the excellent and hardworking cast playing the equivalent characters in each period. Mr. Conlee is always Watson, whether in Dweeb Watson's T-shirt and khakis or Dr. Watson's houndstooth cloak. Ms. Quaid is always Eliza, either the computer engineer or the Bell Labs interviewer or the frightened Victorian arriving at 221B in search of an absent Holmes. Mr. Costabile's character is always the third-wheel Merrick, and onstage transition from modern politician into Victorian gentleman is a clever, memorable bit of stagecraft. Ms. Silverman's direction, combined with Louisa Thompson's sets and Anita Yavich's costumes, makes for smooth, swift, elegant transitions from place to place and era to era.
But at some level, the whole production is built on a gimmick. There is nothing joining these various Watsons beyond the coincidence of their names, and the whole effort, no matter how nicely staged, can feel a bit forced and lugubrious. With every character standing in for an idea, none of them, ironically enough, feels particularly human. In its final moments, the play focuses on the relationship between computer scientist Eliza and her heretofore intolerable and uninteresting ex-husband. They share a sweet moment, but it can't help feeling like a missed connection.
In What's It All About? Bacharach Reimagined, a fun if slightly frustrating concert of a show that opened last week at New York Theatre Workshop, that titular question hangs in the air not just through the performance but after you head home, too.
It's the opening line of the theme song to "Alfie," a classic, melancholy Burt Bacharach-Hal David hit, and it's a phrase that's interpolated throughout the evening, a fun, mellow rock show in which Mr. Bacharach's legendary catalog is reinterpreted by a talented crew of young musicians into Pitchfork-friendly indie-ish, roots-ish and rock-ish arrangements. The music sounds fantastic, but that question largely goes unanswered.
What is it all about? Kyle Riabko is a young musician with an album under his belt and Broadway credits in Hair and Spring Awakening. He's also a Burt Bacharach fan, and a few years ago he came up with the idea of reworking Mr. Bacharach's beautiful but very '70s songs. With Mr. Bacharach's blessing, and with his frequent collaborator, Hal David's, Mr. Riabko set about turning those songs into a show, with Steven Hoggett, the inventive, innovative choreographer and movement director who worked on The Glass Menagerie, Peter and the Starcatcher and Black Watch, among much else, as director.
The cast of young, multitalented musicians looks and sounds great. (Daniel Bailen is on bass, Laura Dreyfus on vocals and what seems to be an occasional prop instrument, James Nathan Hopkins on keyboards, Nathaly Lopez on vocals, James Williams on percussion, and Daniel Woods on guitar, though they all pick up other instruments as needed.) Mr. Hoggett has provided some excellent, small-scale choreography, clever group movements and head twitches, and recognizably Hoggett moments. And Mr. Riabko, who plays the guitar, natch, is a great leading man, confident, hardworking, sweet-voiced and sexily charismatic. There's a bit of the young Mick Jagger to him, even before he does a chin-thrusting walk around the stage.
But what's it all about? There is a hint of a story in some moments, couples maybe falling in love, maybe not. But that's it. There's no play—no storyline, no characters, no acting. It's about the music, really, and just the music. I can't wait for the cast album.