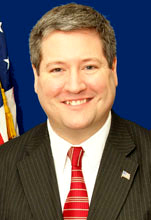 TRENTON – Law enforcement agencies or fire departments hoping to begin utilizing drone technology may find the sky isn't the limit in the Garden State.
New Jersey's Legislature is moving to put rules in place that would put certain restrictions on agencies that may look to unnamed flying devices to perform certain tasks in the coming years.
The bill, A4073/S2702, cleared the Assembly Homeland Security and State Preparedness Committee following unanimous support from lawmakers. The proposal, for example, would require agencies to delete data gathered during drone flights that are unrelated to an ongoing investigation within 14 days.
"We want to make sure there is a basic framework that protects privacy," said proposal's sponsor, Assemblyman Daniel Benson, (D-14).
"I think it's important that we have this ahead of expected use in the future," he said, explaining drones could be use to investigate causes of fires or law enforcement agencies could use them to track missing persons.
The bill also prohibits drones from being equipped with weapons.
"This bill prohibits drones from being equipped with an 'antipersonnel device.' Under the bill, antipersonnel device is defined as a firearm or any prohibited weapon or device or any other projectile designed to harm, incapacitate, or otherwise negatively impact a human being," reads the proposal.
A person found guilty of operating a drone fitted with weapons could spend up to 18 months in jail and be slapped with a $10,000 fine.