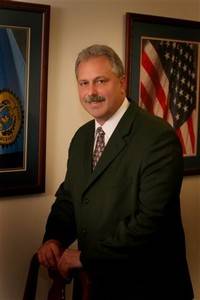 Edison Mayor-elect Tom Lankey today announced the formation of his transition team, to be chaired by Woodbridge Mayor John E. McCormac.
"I am honored that John has graciously agreed to facilitate a smooth transition and to lend Edison the benefit of his experience and knowledge to guide my new administration," Lankey said.
Mayor of Woodbridge since 2006, McCormac served as N.J. Treasurer under former Gov. James McGreevey and was chief financial officer and business administrator in Woodbridge during McGreevey's tenure as mayor.
Lankey, who last month defeated incumbent Mayor Toni Ricgliano, said he wants his transition team to review existing practices from each of Edison's departments; research the best policies and practices used in other New Jersey communities; recommend ways to generate greater efficiency in Town Hall; eliminate redundant services; and generate greater savings for taxpayers.
"I have assembled a knowledgeable team. I am confident they will help make Edison more efficient, more affordable, and find ways to enhance Edison's services to our families, senior citizens and children," Lankey said.
Other transition team members: Dr. Thomas H. Paterniti, a former Edison mayor who served four terms in the Assembly from 1980-88 and in state Senate from 1988-92; Freeholder Charles Tomaro; school board member Lora Fong; Sapana Shah, council member-elect; and former council member Melissa Perilstein; municipal planner Gaetano "Guy" Gaspari – who ran against Lankey on the Republican ticket for mayor in the Nov. 5th election; Dr. Mohammad Zubair, an Edison internist and pulmonologist; engineer Prabhu L. Patel; business owner Anthony Russomanno; forensic accountant Joseph Petrucelli; and public relations specialist Jonathan Jaffe.
Members of the Edison Township Council – including Robert Diehl, Alvaro Gomez, Robert Karabinchak, Michael Lombardi, Wayne Mascola and Dr. Sudhanshu Prasad – will also serve as "ad hoc" members of the transition team. Prasad, a Democrat, ran against Lankey as an independent candidate in November's election.
"It is essential that council members have an integral role in the evaluation and decision-making process," Lankey said. "My administration will be one of openness, transparency and teamwork. We can accomplish so much more for Edison residents if council members, department heads and township employees work considerately and cooperatively."
Attorney William W. Northgrave, of McManimon, Scotland & Baumann in Roseland, will serve as legal counsel for Lankey's transition team. Northgrave is general counsel to the Township of Little Falls and the Woodbridge Redevelopment Agency. He previously served as general counsel to the N.J. State Democratic Committee.