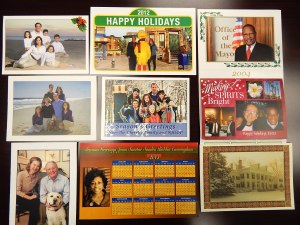 Quick, what politician sent out a holiday greeting card in the last ten years giving himself an accompanying report card topped with the accomplishment of having spent the night in Bill Clinton's digs?
What candidate for the state Supreme Court sent a well-wishing card out to legislators?
If you guessed then-Mayor Sharpe James on one and state Supreme Court nominee Bruce Harris of Chatham on two, you'd be right.
Above, is a cross-section of cards of recent holiday vintage, anchored by the central image of Gov. Chris Christie and family.
Others include, from top left, then-U.S. Rep. Mike Ferguson (R-7), then-Gov. Donald DiFrancesco, U.S. Rep. Leonard Lance (R-7), state Sen. Sandy Cunningham (D-31), then-Gov. Dick Codey, Harris, James, and state Sen. Ray Lesniak's (D-20) 2012 greeting with Big Bird, a dig at PBS scalphunter then-U.S. Presidential candidate Mitt Romney.