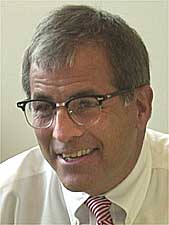 Glenn Paulsen, the former chairman of the Republican Party in Burlington, said Steve Lonegan would be a disastrous choice as a replacement for retiring U.S. Rep. Jon Runyan (R-3).
A movement conservative former Mayor of Bogota, Lonegan said he would move to Ocean County to pursue the Congressional seat Runyan will vacate at the end of his current term.
Paulsen said Burlington doesn't want him.
"I won't support him," Paulsen told PolitickerNJ.com. "I can't support him. I will oppose him. I didn't vote for him in the general election. I didn't vote for Cory Booker either but I could not vote for Steve Lonegan."
Lonegan was not immediately available for comment.