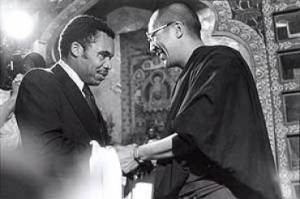 NEWARK – Former Mayor Ken Gibson tonight formally backed South Ward Councilman Ras Baraka for mayor of Newark at a campaign event at the Robert Treat Hotel.
"I'm endorsing Ras Baraka for mayor," Gibson told PolitickerNJ.com in the Crystal Ballroom. "He and I go back to the time that his father and I worked together. He's a real Newarker. He didn't just come to the City of Newark. I think he has more experience with the people of the city and that makes a difference. Ras Baraka is the most committed candidate in the race.
"Being a high school principal is not an easy job anywhere, but in Newark, in Central High School, where I went to school, he's getting the best experience that anybody could get."
Newark's first African-American mayor, Gibson served from 1970 to 1986.
Baraka was humbled by the endorsement.
"It's incredible, it's a dream," said the mayoral candidate. "I would never have imagined that I would be running for mayor, but to have Ken Gibson say that, I didn't expect it. Having Ken Gibson on my side is the ultimate reference check. It's the ultimate in street credibility. Mr. Gibson said it, when he was running for mayor, people said that they weren't ready, but Mr. Gibson said 'ready or not, here I come.' I think that's apropos for my campaign. Newark is ready for this."