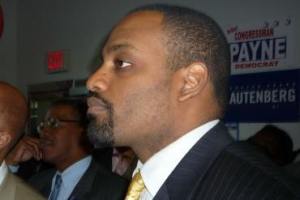 For hire: former mayor, who once served in an executive capacity in one of the Oranges, just not the one he wants to serve right now.
They've seen him at recent council meetings, those citizens of West Orange alert to the demarcations of next year's mayor's race, and so they absorbed with nary a sense of shock the news about former Orange Mayor Eldridge Hawkins, Jr., probing entry into the contest.
"I am honored and humbled that West Orange residents would consider having me as their mayor," Hawkins said in a statement, after a meet-and-greet at a local restaurant. "To serve as an elected official in the town in which I was raised would be a great honor."
A West Orange cop, Hawkins left that job to become the mayor of neighboring Orange in 2008 amid persistent legal wrangling with the West Orange Police Department and a web of suits he filed against the PD.
After staring down the carpetbagger charge in Orange, Orange dumped a public sector-union-hampered Hawkins in 2012, and now he's back in West Orange, which he says was home all along anyway.
"I remember playing mountain top soccer and tee-ball when I was younger, attending St. Joseph's School, Redwood School and eventually Seton Hall Prep all here in West Orange," said the former mayor of Orange. "This town has a great history that I would love the opportunity to carry forward and take to new heights. This however, can't be done alone. It will take all of us through coalitions and partnerships to insure West Orange's future as a wonderful place in which to live, work and raise a family."
The field isn't yet set but most insiders see a coming showdown between incumbent Mayor Robert Parisi and West Orange Councilman Joe Krakoviak.
Tonight, the West Orange Council will consider an ordinance that would move the mayor's election from May of 2014 to November of 2014, a cost-savings measure, according to the mayor, which Krakoviak opposes.
Neither man commented directly on Hawkins, but addressed their own potential runs for mayor.
"I've been blessed to serve in public office for 15 years and I've never shied away from my record," Parisi said. "If we decide to seek re-election I am happy to campaign on my record and happy to campaign against anyone on my record."
For Krakoviak's part, "I'm mulling it over. I'm giving it serious consideration."