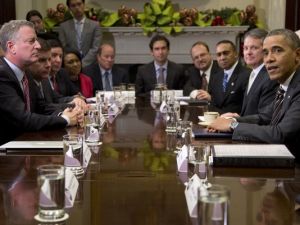 Jersey City Mayor Steve Fulop joined 11 other big-city mayors at the White House today to discuss urban issues, including gun control.
Fulop had never met President Barack Obama, who supported incumbent Jersey City Mayor Jerry Healy in the May election.
"This is all new for me," Fulop told PolitickerNJ.com after meeting with the President for over an hour and a half.
Other mayors in the room included the mayors of Minneapolis, Boston, Seattle, New York, Detroit, Chattanooga and Los Angeles.
"I found the meeting very productive, both governmentally and politically," said Fulop, who planned this evening to attend a White House holiday party.