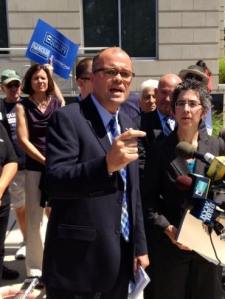 On Thursday Gov. Chris Christie is scheduled to headline a fundraiser for Oklahoma Governor Mary Fallin and Garden State Equality disapproves.
Last month, Fallin became the only governor among the more than thirty states with constitutional amendments barring same-gender marriage to refuse to process applications for spousal benefits at state-owned facilities of the Oklahoma National Guard. All applicants, regardless of sexual orientation, can now only apply at federally owned Guard facilities, limiting access and adding considerable burden to military families. Oklahoma does not have an LGBT-inclusive hate crimes law or laws barring housing or employment discrimination based on sexual orientation or gender identity.
This contrasts sharply with the record of Governor Christie, said Garden State Equality Executive Director Troy Stevenson.
"Governor Christie has often stated that even with his opposition to marriage equality, he still believes that same-gender couples deserve equal protections under the law, and publicly supports civil unions. In 2011, he signed the nation's strongest LGBT inclusive anti-bullying and harassment law. And this year he signed a law making New Jersey the second state in the union to ban so-called 'conversion therapy,' potentially saving the lives of thousands of LGBT youths. He also showed a willingness to accept the opinions of both the U.S. and N.J. Courts by dropping his opposition to marriage equality. For him to now embrace a candidate who is staunchly opposed to LGBT equality is a step in the wrong direction," Stevenson said.
"As a native Oklahoman, I find Governor Fallin's anti-LGBT stand reprehensible," the executive director said. "Ending service to all rather than offering service to a minority is not equality, it is discrimination of the highest order. And this is only the latest example of Governor Fallin's disregard for the LGBT community.
"While Governor Christie has never been a proponent of the freedom to marry, he has always claimed to support equal protections for all. In a time when LGBT rights are quickly becoming a non-partisan issue, it is tragic that Governor Fallin has chosen time and time again to marginalize LGBT Oklahomans. Garden State Equality, along with our partners at The Equality Network, call on Governor Christie to speak out against Governor Fallin's treatment of not only the brave soldiers of the Oklahoma National Guard, but all Oklahomans that deserve to be treated equally under the law."
TEN board-chair, Laura Belmonte, issued a statement:
"During a year of stunning progress toward LGBT equality across the nation, Governor Fallin has chosen to double-down on protecting discrimination. In contrast to their counterparts in Missouri, Oklahoma officials have announced that they will not allow legally married same-sex couples to file their state taxes jointly. In contrast to their counterparts in Texas, Oklahoma officials treat members of the Oklahoma National Guard like second-class citizens rather than allow them to apply for their federal benefits at any Guard facility at which they serve. In terms of gay rights, the contrast between Governors Fallin and Christie could not be more stark."