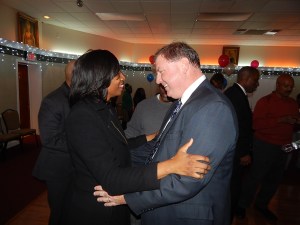 HILLSIDE – Councilwoman Angela Garretson defeated incumbent Mayor Joe Menza in tonight's runoff election.
The unofficial vote totals were Garretson 1,936 and Menza 1,556.
"The election is over and it's a very humbling moment," said the victor. "I stayed true to myself and we're just so proud. So many wonderful people are a part of this."
Garretson defined herself as the Democrat running in a Democratic Party-advantage town, while Menza tried to paint his challenger as too tied to Newark.
"I commend her for running a good campaign, and I pledge to do everything I can to help her with the transition," said Menza in defeat.
He called Garretson personally to congratulate her and Garretson appreciated his show of class.
In a larger political context, the mayor's defeat and Garretson's victory caused celebration among LD20 Democrats.
"A great day in America," said state Sen. Ray Lesniak (D-20), spilling into the Knights of Columbus hall with an entourage.
He and Assemblyman Joe Cryan (D-20) and Elizabeth Mayor Chris Bollwage all embraced Garretson with hearty hugs.
Menza was politically aligned with the Elizabeth Board of Education, and defeating him in Hillside felled another Rafael Fajardo ally.
U.S. Rep. Donald Payne (D-10) was another big winner tonight. He went all in with Garretson early.
Pablo Fonseca, on the ground as Garretson's political strategist, and Anthony Salters, could also claim credit for the win, as can the CWA and local leader Lionel Leach.
The mayor-elect did not win the council, however, an outcome that will make governing harder, according to Hillside political observers.