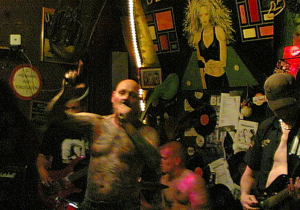 Ugh, is there anything worse than when you find yourself nodding your head like yeah to a catchy song only to discover that it's about Nazism? There's a new app that helps you avoid those musical faux pas. It's currently being tested in Germany to fight the spread of that genre of music.
In short, it's "Nazi Shazam." Cops can quickly distinguish between the latest Macklemore song and a neo-Nazi tune with the app. There are 79 songs that are banned in the country because of their inflammatory views, so the app's selection is limited.
A report in Spiegel writes that it's being tested in a few parts of the country:
The regional police office in the eastern state of Saxony has developed a prototype system of registering audio fingerprints from neo-Nazi rock. It has the advantage of "sparing resources and enabling very quick investigations," said an internal government assessment.
The German government is meeting this week to decide if it should expand the app to police agencies country-wide. However, there won't be an immediate roll out since there are several legal issues to be addressed, but at least the developers don't have to deal with Y Combinator.