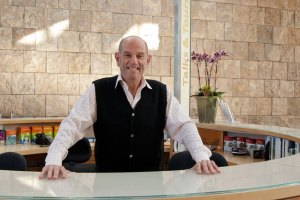 Los Angeles's J. Paul Getty Museum announced today that its senior curator of paintings, Scott Schaefer, who has been with the institution since 1999, will retire. Mr. Schaefer, who has previously held positions at the Los Angeles County Museum of Art, Boston's Museum of Fine Arts, Harvard's Fogg Museum and the Philadelphia Museum of Art, will step down on Jan. 21, 2014.
"Through his acquisitions, Scott has made an impact on every one of the museum's paintings galleries and, in particular, transformed our eighteenth-century French collection," Timothy Potts, the Getty Museum's director, said in a statement. "We will miss his discerning eye, keen intelligence and above all his unswerving commitment to the museum."
Back in 2010 Mr. Shaefer talked a bit about his hands-on approach to working at the Getty in its magazine, The Iris, noting that he enjoyed strolling the galleries each day, talking with security guards and visitors. It's a fun read, available right here.